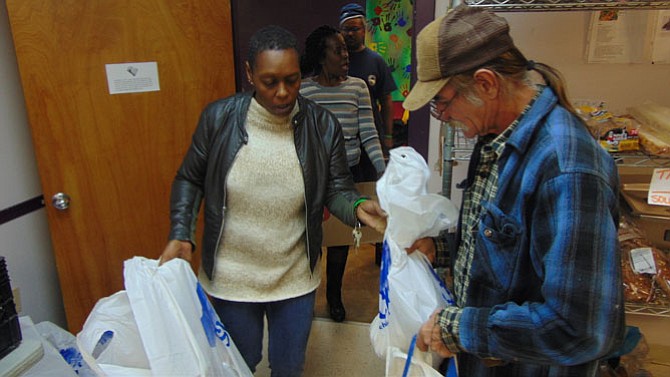 Mount Vernon — For its Thanksgiving Holiday Giveaway, Rising Hope Mission Church distributed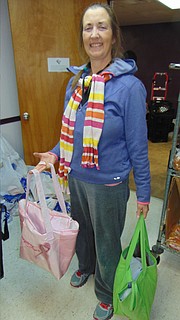 350 Thanksgiving baskets with all the fixings and sides last Wednesday and Thursday to help the homeless, low-income families, and disabled veterans along the Route 1 Corridor between Alexandria and Ft. Belvoir. The church on Russell Road in Alexandria also served 35 homebound bags of turkeys and fixings to those who were unable to get out of their homes.
The baskets of food included 14- to 16-pound turkeys donated from Christ Church in Lorton, all the fresh sides, a bag of rice, au gratin potatoes, macaroni and cheese, cornbread, cranberry, canned fruit and veggies, and gravy as well as fresh fruit and veggies that were donated from Trader Joe's, according to Melissa Lee, Food Pantry coordinator.
On Thanksgiving Day, Rising Hope will be serving the homeless along the Route 1 Corridor from 12:15 to 1:30 p.m. Volunteers will be cooking a Thanksgiving meal, serving it and then cleaning up afterwards. They repeat the same effort on Christmas Day.
Coordinator of Outreach Ministries Mary Hamilton said they give out a lot of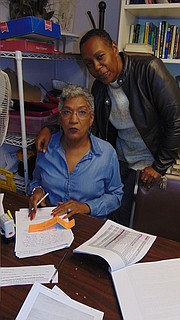 cold weather wear to the homeless — both those who are sleeping outside and those staying at shelters. They are especially in need of men's warm coats, sleeping bags, blankets, warm socks, shoes and long johns. She said they give out clothing to between 300 and 500 people in the community each week. The biggest need is for men's winter and fall clothing but they are also happy to receive women's and children's clothing.
Last year, they gave out 1,600 Christmas gifts to the community, and this year, they still need new toys for children for all age groups. Donations can be dropped off at Rising Hope between 9:30 a.m. and 4 p.m., Tuesdays through Fridays.
The community can still send a financial donation to Rising Hope (through Dec. 31) to be applied to the $30,000 matching gift provided by Beyond Coffee Beyond Church, according to Denene Crabbs, Strategic Partnership director. To donate, go to risinghopeumc.org/shop or mail a check payable to Rising Hope, 8220 Russell Road, Alexandria, VA 22309, or call Kat Roman at 703-360-1976. Office hours are 9:30 a.m.-3 p.m. Tuesday through Friday. Food Pantry hours are Wednesdays 1:30-3:30 p.m., Thursdays 10 a.m.-noon and 3:30 p.m.-7:30 p.m. The Rags to Riches Clothing Closet is open Wednesdays and Thursdays 9:30 a.m.-noon and 1-4 p.m. Food and clothing donations can also be delivered to the Russell Road address.