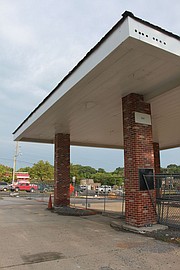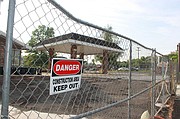 Mike Terpak is worried about his well becoming contaminated.
Like about 80 percent of village residents, his home runs on a well system. Terpak is a resident of the Oliver Estates, a neighborhood that the gas plume concentrated near the old Exxon station with known carcinogen Methyl Tert-Butyl Ether [MTBE] is creeping towards.
He plans to go to Great Falls Citizen Association's town hall meeting 7:30 to 9:30 p.m. Nov. 11 in the library to hopefully hear whether the state Department of Environmental Quality and environmental consultant Kleinfelder plan on adding additional pumps to make sure MTBE does not ruin crucial well water for him and his neighbors.
"It worries me," said Terpak. "I'm on the leading edge of this and you would think there would be some direct communication with us about it," he said.
THE MEETING, in which the citizen's association requested representatives from Kleinfelder and Fairfax Petroleum Company to be present, asks for an alternate plan to accommodate for the side of the plume reaching for Oliver Estates to be presented.
Representatives from Fairfax Petroleum did not return a phone call to their office. Representatives from Kleinfelder do plan to be at the meeting.
"I cannot speak to you about this matter," said Program Manager Mark Steele when asked whether he is considering building another pump.
According to GFCA Groundwater Contamination co-chair Glen Sjoblom, the citizen's association also sent information to Dranesville Supervisor John Foust about their cause and the town hall meeting.
There has not been a lot of research done on the effects of MTBE in drinking water, according to the U.S. Environmental Protection Agency's website.
"The majority of the human health-related research conducted to date on MTBE has focused on effects associated with the inhalation of the chemical," stated the agency's website. "When research animals inhaled high concentrations of MTBE, some developed cancers or experienced other non-cancerous health effects."
LIKE GFCA, Terpak has not heard from DEQ or Kleinfelder about any updates with the situation. He said his family has relied on the media for leading information so far. All he wants, he said, is for more communication between those who will be affected and the consultants. As a resident of 21 years who has raised a family, he and his wife have no plans to leave any time soon.
"This has been going on for years and years, and in the past few months, there has been a push to do something," he said.
That push that he noticed was the letter with GFCA's request for the plume to be checked recently. When the plume was found to be heading towards the Oliver Estates neighborhood, members of GFCA sent their letter calling for an additional pump to be added for the cleanup effort.
"As such it is difficult to draw the contamination hundreds of feet underground to the well and processing system on the Exxon site," states the letter signed by GFCA President Eric Knudsen. "Therefore, we believe it could be advantageous to install pumps at two additional locations, one to the southeast, and one to the south, in the vicinity of the leading edges of the plume in these directions."
Sjoblom hopes to see residents voicing their opinion at the meeting.
"We feel it is very important for Great Falls residents to be at this meeting, and voice their strong support for a thorough cleanup of the MTBE in the groundwater, so it will not get into our well water," he said.
More information about MTBE cleanup update meeting as well as future town hall meetings can be found at http://gfca.org.