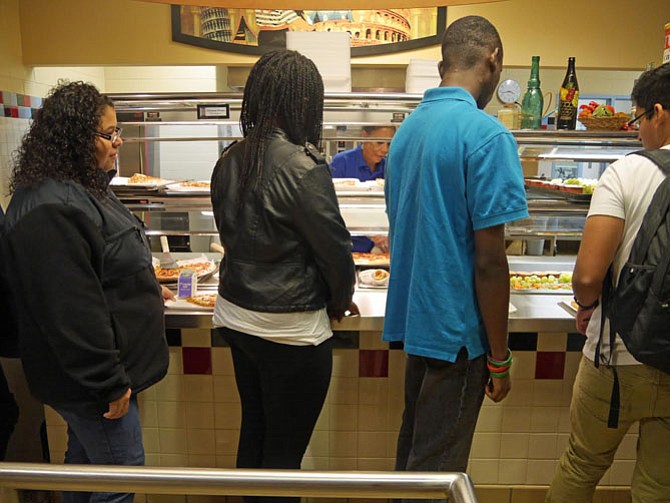 A bell rings out, and students hustle to the cafeteria line at T.C. Williams High School for the first lunch period of the day. Stella Napper stands behind her pizza line ready to replace the large metal pans when the pizza has disappeared. "Pepperoni is the favorite," she said, "and I serve about 34 pizzas a day with 22 of them pepperoni. That's my favorite, too." They also offer cheese and the "special of the day" which happens to be barbecued chicken today. Napper makes the pepperoni pizzas while a co-worker in the back of the kitchen makes the specialty pizzas. As she moves pizzas from the tall metal rack to the oven, Napper says the specialty pizzas take about two more minutes to cook because they have more products on top.
Photo Gallery
Keeping the Line Moving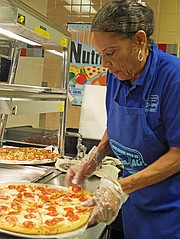 Click Photo for Flash
Napper says a slice of pizza costs $2.50 and a meal $2.65. The meal includes milk and a fruit. As the line moves along, the green grapes disappear first. "They love green grapes," she said, "and at least half of them take milk." Stella says the pizza station is one of five lunch stations available, and she has worked all five, "so we know how to do everything and it gives flexibility. I like the international line the best because I like the variety of food, especially the Italian." The students balance their pizza on a paper plate and head for the cashier and the lunchroom to find a table or snag a booth. Napper said, "Sometimes they get two pieces of pizza. Kids love pizza. One time I remember a student who got three pieces. He was really hungry."
Napper pulls off a piece of pizza and hands it to be wrapped, labeled and put in the freezer. "This is in case someone gets sick so we know what we served, " she said. Napper starts her day at 8 a.m. when she punches in, washes her hands and sets her pizza line up with the plates, utensils and sanitation bucket. "This is so I can wipe down the line after each lunch to keep things clean." She helps serve breakfast before the four lunch shifts begin later in the morning. "It's things like sausage, cereal, corn dogs and apple pie. "Yes, apple pie," she said. "A lot of students eat breakfast, I'd guess about half the number who eat lunch." Then she moves onto making the pizzas so they are out of the oven and warming when the first hungry students arrive. Her day is finally finished in early afternoon when she has cleared her line, put leftover pizza in the freezer and counted the milk.
Sometimes they get new recipes to try. "And we test the recipe, all of us sample it and decide whether to add it to what we offer." A line of students passes by quickly, and Napper has to consolidate the fruits and vegetables to "make it look nice for the customers. We have to keep a full tray up here. My primary job is to keep the students happy." Napper removes an empty pizza pan, puts it on the cart, and pulls out another cheese pizza. "I can cut this really fast from practice," she said, "and I always cut toward me; it works better. Then I separate the pieces so the kids can pick them up more easily," she demonstrates as her plastic gloves quickly move around the circle and another pizza is ready to go.
Napper has been at T.C. Williams for eight years but has had a number of jobs in the food industry beginning with her first job at 16 in a grocery store, later on to Panera and other places. "And here I'm the Pizza Lady." Also, she watched her mom cook, "those holiday dinners; she made everything … that coconut custard pie … and she put coconut in her sweet potatoes."
The loudspeaker suddenly blares out an album by Usher. Before long a circle has formed with two high school girls dancing in the center while others clap all around and students dart up the stairs to the balcony to watch from above. "It is Homecoming Week," Napper said, "and there has been something going on all week, to build spirit up, you know." A sign hangs from the ceiling rafters "Warrior Wednesday, wear your sweatshirt." As the students prepare to return to class and think of the Homecoming game tonight, one of them is heard to say with some surprise, "We had a little morning party over there."