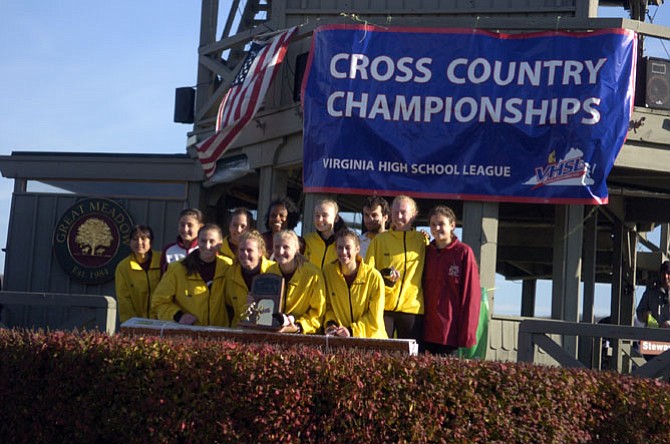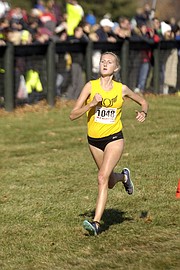 Oakton cross country coach Alisa Byers felt a sense of pride in the way her girls' team handled its second-place finish at the VHSL state meet, with harriers holding their heads high as they walked onto the podium at Great Meadow to receive recognition.
As it turned out, Oakton actually did one better than a runner-up finish.
The defending state champion Cougars mistakenly thought the top three teams would be recognized following the race, when in actuality, it was only the first- and second-place finishers. After Lake Braddock was honored at the podium, Oakton was called up.
"We thought that they [recognize] three teams on the podium," Oakton senior Allie Klimkiewicz said. "We were the second to go up there and they handed us the first-place trophy and we were just very confused."
It took a moment or two for it to sink in, but the Cougars eventually realized the truth: they were, once again, state champions.
The Oakton girls' cross country team won its second consecutive 6A state title with a score of 44 on a Saturday afternoon, Nov. 15, at Great Meadow.
The Cougars held off Lake Braddock, which finished runner-up with a score of 58. Each team's top five harriers finished in the top 20.
"I'm really ecstatic about [winning back-to-back state titles]," Klimkiewicz said. "I'm really proud of my team. It was a really close race. We came in knowing that there would be at least three teams right with us, so I was really happy to find out that we won."
The Cougars didn't "find out" they had won until they were up on the podium.
"They had no idea," Byers said. "That's why they were so confused up on the podium. ... They went up there, still, with poise. I was very proud of that moment because a lot of times when people get second, they hold their heads down. They were still just proud to make it back on the podium."
Klimkiewicz placed third with a time of 18 minutes, 12 seconds. Teammate Casey Kendall, a sophomore, finished fourth with a time of 18:17.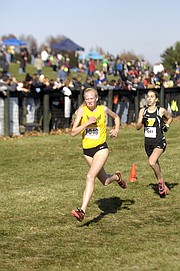 "Casey is the most versatile runner I've ever met," Klimkiewicz said. "She has a fantastic kick. Both of us were able to pass a lot of girls in the last 1,000 meters or so, and it was great to have her right there with me at the end."
Oakton sophomore Leya Salis finished 11th with a time of 18:30. Freshman Kira Buttrey placed 15th (18:45), and junior Jill Bracaglia was 16th (18:49).
Oakton will graduate only two of its top seven runners --- Klimkiewicz and senior Kara Kendall, who finished 66th with a time of 20:21.
Oakton was at its best late in the season, winning championships at the Conference 5, 6A North region, and state levels.
"I think a lot of people, if they would have looked at our midseason performances, they weren't very impressive," Byers said. "A lot of people started to count us out and there were moments where even some of the girls started to count themselves out. Once we got to postseason, we changed gears and just kind of went after it."
Patriot sophomore Rachel McArthur won the individual title with a time of 17:43. Lake Braddock sophomore Kate Murphy finished runner-up (17:54).
The Madison girls' team finished third with a score of 83. Warhawk harriers Devon Williams (18:22), Amanda Swaak (18:30), and Morgan Wittrock (18:33) earned all-state honors, placing sixth, 10th, and 13th, respectively.
In the 6A boys' race, Oakton finished fourth with a score of 124. Lake Braddock won the team title with a score of 41, followed by West Springfield (92) and Chantilly (105).
Oakton senior Simon Iyob earned all-state with a 12th-place finish (15:58).
Lake Braddock senior Alex Corbett won the individual championship with a time of 15:08, and Bruin teammate Kevin Monogue placed second (15:19).