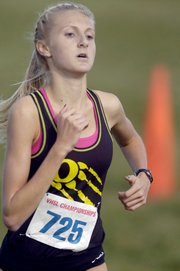 Allie Klimkiewicz expected the best. As it turned out, the performance of the Oakton sophomore and her teammates at Saturday's VHSL state cross country meet earned the Cougars a trip to the podium of the first time since 2007.
The Oakton girls' cross country team finished AAA runner-up on Nov. 10 at Great Meadow. The Cougars and Midlothian each finished with a score of 101, meaning each team's No. 6 finisher would be used as a tiebreaker. Oakton sophomore Grace Stewart finished four places better than Midlothian's No. 6 harrier, giving the second-place nod to the Cougars.
Lake Braddock won the state title with a score of 47. The top three teams are honored at the podium.
Klimkiewicz said after the race the Cougars "had no idea" how well they had performed.
"We were just going in expecting the best," she said, "and we got even better than that."
Klimkiewicz was Oakton's top finisher, earning all-state honors for the second straight year with a ninth-place time of 18:27. Klimkiewicz said she ran out of energy toward the end of the race, much like her freshman season when she placed fifth with a time of 18:32.
The top 15 individuals receive all-state recognition.
"[Klimkiewicz] went out there pretty courageously," Oakton head coach Alisa Byers said. "I was watching from the middle of the field and in the first 800 meters she just shot out there. She did her best to hold on and that straight away [at the end of the course] is really long. I think it got the best of her toward the end, but the way that she went out there, you could tell she was going for it."
Oakton junior Hailey Dougherty (19:14) placed 29th, senior Kristi Carrigan (19:25) was 34th, sophomore Kara Kendall (19:25) was 35th and sophomore Maryn McCarty (19:42) placed 51st.
"We were just going in expecting the best and we got even better than that."

--- Oakton's Allie Klimkiewicz
"[Reaching the podium] was our goal from the start, like after last year [when] we finished fourth and we just missed it," Byers said. "But even last year we were happy because the goal was to get to the state meet. We're moving right along and having our successes."
The Oakton boys' team finished eighth with a score of 206. Chantilly won the state title with a score of 57, followed by Midlothian (72) and Battlefield (128).
Oakton junior Jack Stoney earned all-state with an 11th-place time of 15:53.
"Jack performed like Jack always does," Byers said. "He puts himself in there and he has an incredibly high tolerance for pain. Even if he does look like he's dying, he's going to put himself up to that next level."
Junior David Atkinson (62nd, 16:36), senior Oliver Lopez-Gomez (70th, 16:42), junior Isamu Hosakawa (73rd, 16:45) and senior Christopher Sprague (78th, 16:51) also finished in Oakton's top five.