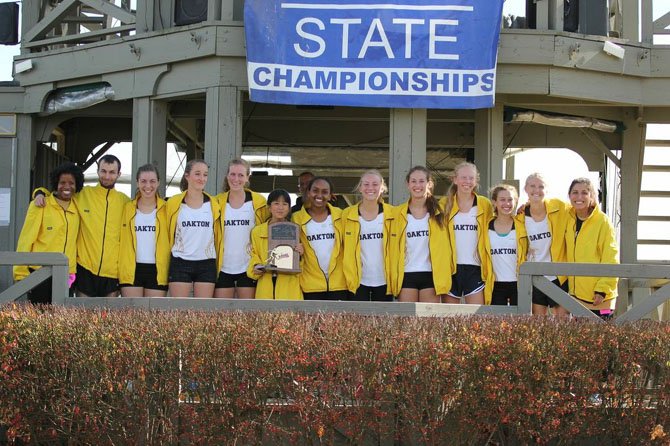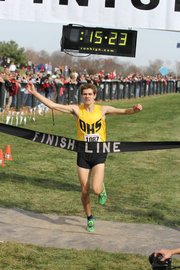 Oakton harrier John Stoney felt nervous with 800 meters remaining in Friday's 6A boys' state championship race, fearing he would be caught from behind.
With 600 meters remaining, the senior's legs went numb.
When Stoney crossed the finish line, however, all mental and physical anguish gave way to the euphoria of accomplishing his goal.
He was a state champion.
Stoney won the boys' VHSL Group 6A individual state cross country championship, finishing with a time of 15 minutes, 25 seconds on Nov. 15 at Great Meadow. Stoney is Oakton's first boys' individual state cross country champion since 1978 (James Hill).
"It's like a dream," Stoney said after the race. "It was my goal from the start of June [and] summer training. To actually do it is incredible."
Stoney said he ran with Lake Braddock's Alex Corbett for much of the race and started to pull away with 800 meters remaining. Victory, however, was hardly a sure thing.
"I was really nervous," Stoney said, "because I was scared I was going to get passed at the very end."
Stoney would hold on to win. Corbett placed second with a time of 15:35. Chantilly's Ryan McGorty finished third (15:45), followed by Osbourn Park's Nick Causey (15:49) and Chantilly's Dakota Lange (15:51).
Madison's Matthew Calem placed seventh with a time of 15:54.
"It's good to see all of [Stoney's] hard work pay off," Oakton head coach Alisa Byers said. "He's another person that when we were doing individual and team goals he said he wanted to be a state champ … and he put the work in over the summer and he's come off stronger than he's ever been."
"It's like a dream. It was my goal from the start of June [and] summer training. To actually do it is incredible."

--- Oakton senior John Stoney
The Oakton boys' team finished sixth with a total score of 133.
Chantilly repeated as state champion with a score of 85, followed by Lake Braddock (87), Robinson (89), Battlefield (89) and Osbourn Park (98).
Stoney wasn't the only Oakton harrier recognized on the podium.
The Oakton girls' team had three individuals receive all-state honors by finishing in the top 15, helping the Cougars capture the team championship. Junior Allie Klimkiewicz (fourth, 18:01), senior Hailey Dougherty (eighth, 18:21) and freshman Casey Kendall (14th, 18:29) were recognized individually. Freshman Leya Salis (24th, 18:56) and junior Kara Kendall (26th, 18:59) also contributed to the team title as Oakton finished with a meet-best score of 55. Washington-Lee finished runner-up with a score of 100, followed by Lake Braddock (112), Ocean Lakes (115), West Springfield (144) and Battlefield (150).
"I saw three girls [earned] all-state, so that's a really good sign," Byers said. "I saw their last … 300 meters and they looked as strong as I've ever seen them. I'm very proud of what they've done."
West Springfield's Caroline Alcorta won the individual title with a meet-record time of 17:13. Lake Braddock's Hannah Christen (17:52) and Katy Kunc (17:59) finished second and third, respectively.
Madison's Amanda Swaak earned all-state honors with a 12th-place finish (18:28).
Klimkiewicz said she took a different approach than she did during her sophomore year and it paid off.
"[I was] definitely a lot less nervous," said Klimkiewicz, who finished ninth at states last year. "And last year I went out really fast, which was not a very smart game plan, but, hey, it's the state meet so you've got to make big moves. This year I went out more conservatively."