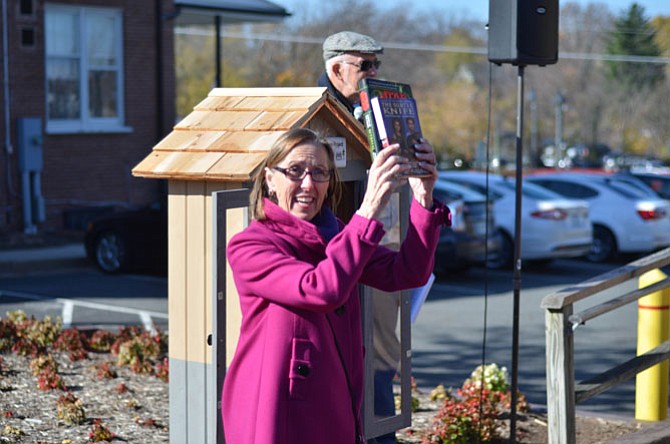 Despite cool weather, the Town of Herndon residents and members of the Herndon Rotary Club assembled at downtown Herndon for the dedication and unveiling of the Rotary Club of Herndon's first Little Free Library on Saturday, Nov. 15. The Little Free Library is a neighbor-to-neighbor sharing of books, and was made possible with the support of local businesses and the Rotary Club of Herndon. No library card is necessary to participate in the program.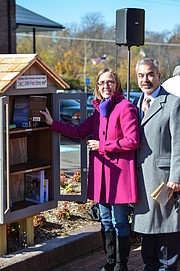 The Little Free Library (LFL) movement began in 2009 when Todd Bol of Hudson, Wis. built a model of a one room schoolhouse as a tribute to his mother, a former school teacher who loved reading. By January of 2014, the total number of registered Little Free Libraries in the world was estimated to be near 15,000, with thousands more being built.
Herndon Rotary club member Richard Downer welcomed everyone attending the Saturday dedication event. Downer explained how he was inspired to propose the idea to members of the Herndon Rotary club after seeing a LFL in Carrollton, GA, the previous year. "I mentioned the idea to Mayor Merkel and Mercia Hobson, a fellow Herndon Rotarian," said Downer. "They both thought it was a great idea for Herndon to have their first LFL on our Town Hall/W&OD Depot green."
It was decided to make a weatherproof design using the colors of the historic Herndon Depot building. While Mercia Hobson got applications approved, her husband Al Hobson worked on the lumbar donated by Bob Benedict. The structure is ADA compliant, so a person using a wheelchair should be able to reach the top shelf.
Owners of Green Lizard Cycling on Lynn Street, Beth and Dave Meyer, will help serve as custodians of Herndon's first Little Free Library. The library is in beeline view of the Green Lizard Cycling on Lynn Street. "It is an honor, we are excited to have a free library, and I think it is another great addition to the community," said Beth Meyer. "The Little Free Library is an exciting new addition to the Herndon Town Hall Plaza," said Signe Friedrichs, Director of the Council for the Arts of Herndon. "It tells the world that Herndon has citizens such as Al and Mercia Hobson and Richard Downer, and the new librarian Beth Meyer, who care passionately about the beauty of our town. I love it!"
Attending were Town of Herndon Mayor Lisa Merkel, Vice Mayor Jennifer Baker, and town council members Grace Han Wolf and Sheila A. Olem. Also attending was Katie Strotman, Deputy Director of Fairfax County Library System. "I am so delighted to welcome the Little Free Library concept to Herndon and thank the Rotary Club for their continuing support for childhood literacy and encouraging a love of reading," said town council member Grace Han Wolf. "There are discussions about installing an additional LFL in Town and I would support and encourage the idea, it is a very Herndon thing to do, sharing your favorite books with friends and neighbors." Wolf is looking to see if another LFL can be installed at the Herndon Community Center at 814 Ferndale Ave., Herndon.
The Herndon Rotary club will be stewards of the Herndon LFL. In 1939 the Rotary Club of Herndon was established as a charter member of Rotary International. For the past 75 years the Rotary Club of Herndon has served as a part of the Herndon community. The Rotary Club of Herndon sees the Little Free Library as an extension of their literacy efforts to all age groups. For pre-kindergarten children the Rotary Club sponsors the Dolly Parton's Imagination Library program in Herndon zip codes 20170 and 20171. The Rotary Club of Herndon meets Wednesday mornings at Amphora Diner at 1151 Elden Street at 7:30 a.m. and welcomes visitors to join for breakfast and learn about ways to provide service to Herndon and international projects of Rotary. For more information on Rotary Club of Herndon visit www.herndonrotary.org.