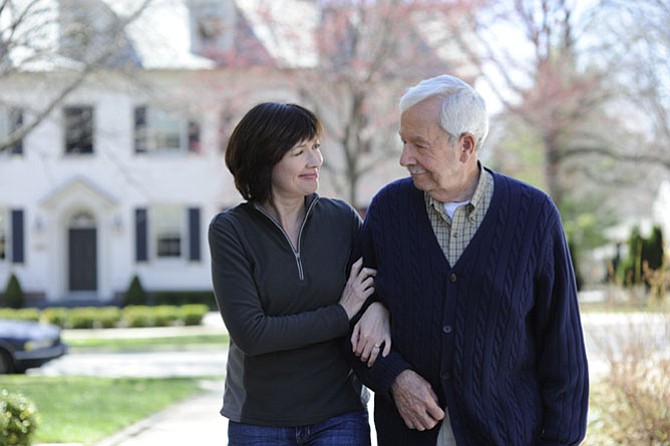 Mary Driver-Downs has been one of the primary caregivers for her mother-in-law, who suffers from Alzheimer's disease, for the past six years. It has been a difficult journey, but one she says is well worth it.
In fact, she has become a spokesperson and a role model for other caretakers of those who suffer from the disease. Caregivers often overlook self-care, she says.
Resources
Alzheimer's Association Helpline (1-800-272-3900): This toll-free 24/7 helpline is staffed by masters-level counselors and provides information and guidance in more than 170 languages and dialects.
The Alzheimer's and Dementia Caregiver Center (alz.org/care): This site provides more than 70 pages of information and easy access to resources, such as:
Community Resource Finder: Find local resources.

Care Team Calendar: Coordinate caregiving responsibilities among family and friends.

Safety Center: Access information and resources for safety inside and outside of the home, wandering and getting lost, and dementia and driving.
ALZConnected, powered by the Alzheimer's Association (alzconnected.org): The first social networking community designed for people living with Alzheimer's and their caregivers.
"Taking care of myself is the most difficult part of care giving," said Driver-Downs, an Alzheimer Ambassador. "I have learned lots of little things that seem to help. I am more aware that I need to get adequate sleep so I make it a point to sleep when I should. Sometimes that means I turn in earlier than most people. Being rested helps me cope with the stress of daily care."
November is National Alzheimer's Disease Awareness and National Family Caregivers Month. The Alzheimer's Association, an organization founded by caregivers, celebrates the efforts of caregivers, and raises awareness about both the disease and innovative resources that have been designed specifically with families in mind.
One of the issues that many families of those suffering from Alzheimer's disease face is denial.
"Unfortunately, this is a very common problem," said Maureen Charlton, helpline program coordinator at the Alzheimer's Association's National Capital Area Chapter in Fairfax. "The person who is showing symptoms is often seemingly in denial about their condition. Part of it may be some true denial as they see changes in themselves and are scared to think of what it might be, and the other part is people sometimes lose the ability to have insight into their deficits.
"It can be helpful to encourage the person to go to the doctor for another reason [such as a] Medicare annual wellness visit or a checkup for another medical issue. If at all possible, provide the physician some information in advance of this visit."
The Institute for Innovations in Caregiving, a statewide effort to help ease the burdens of those who care for ailing seniors, especially those with Alzheimer's named two George Mason University faculty members, Catherine Tompkins and Frank J. Whittington, to the institute's advisory council.
The institute aims to preserve and improve the physical and emotional wellness of family caregivers by helping them manage emotional stressors and tough decisions. It also will try to improve caregivers' access to the latest technologies and community resources.
"Caregiving, whether by a spouse, a child, a parent, a sibling or a friend, is one of the hardest and most rewarding jobs any of us can ever undertake," Whittington said. "Most caregivers accept and embrace the role without hesitation, but in time, the responsibility can become physically and emotionally overwhelming. The [Institute for Innovations in Caregiving] is an exciting, innovative venture to support, educate and celebrate caregivers in Virginia, and I believe it can become a model for other states to follow."
There are 130,000 people living with Alzheimer's and 447,000 unpaid caregivers in Virginia, according to the Alzheimer's Association. For more information on Alzheimer's disease or available resources, visit alz.org or call 1-800-272-3900.