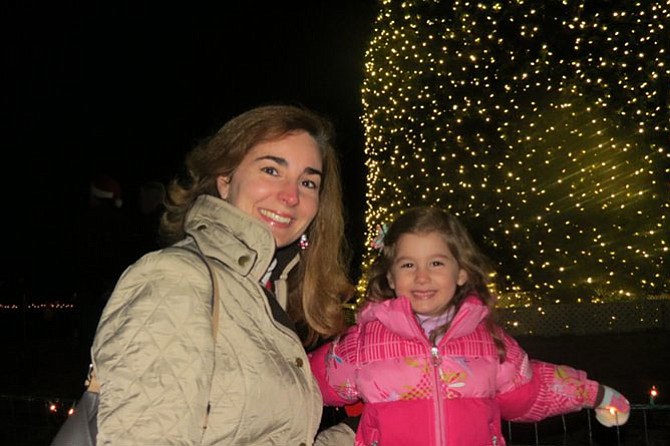 The village will kick off the holiday season with an age old tradition: Celebration of Lights.
The festival, which includes a tree lighting by Santa and Mrs. Claus and a live nativity, will take place on the Village Green on Dec. 6 from 5:30 to 8 p.m. This will be the 23rd year that the tree has been lit.
"It was my wife's idea in 1991," said Robert Moore. "She thought it would be nice to have a tree lighting for the kids. It's a tradition that's been going on and on."
With the help of Gary Schmitz, Moore has made sure there was a tree erected in the green every year since. In that moment, where the lights are switched on by Santa lives the memory of his wife, Jackie, who passed away in 1995.
"You should come here and see those kids' eyes get big, and they start hollering," he said. "It's great to have something for the kids and the community," he said. "For this area, it starts off the Christmas season."
In previous years, he said between 800 to 1,000 children show up to see the tree lighting and talk to Santa..Santa and Mrs. Claus will arrive at 6 p.m. to the Village Green to light this year's 38 foot tree decked out in 5,000 lights.
A petting zoo and pony rides will follow the lighting as Village Green Day School, Great Falls Elementary and Colvin Run Elementary sing carols for the remainder of the event. At 7:30 p.m., the live nativity, featuring both local people and local animals, will begin. The tradition has been carried on by local Margaret Johnson - with more recent help from Claire Abbott. When she started the tradition, she was helping to plan a new holiday activity for the community with Great Falls Friends. While others suggested visits from Santa, she wanted something different.
"I said I wanted equal time," said Johnson. "Christmas is about Christ."
The nativity was designed by her and built by local Glen Sjoblom.
Abbott, who Johnson calls her "right hand gal," said people come from all over the area every year to see the nativity. "People come year after year to reflect on the scene for 15 to 20 minutes," she said.
Johnson said many people in the community think of the nativity and the Celebration of Lights as a whole as the start of the holiday season. "We do it because it is a necessary part of the holiday," she said. "It's our gift to the community.
For more information about the free event, visit http://celebrategreatfalls.org/Christmas.html.