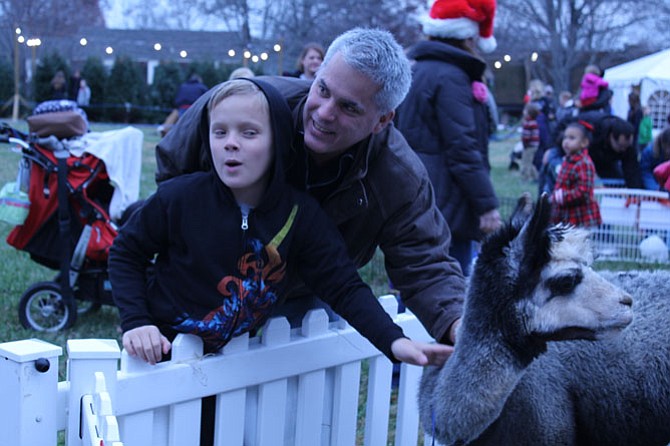 Great Falls — Hundreds of people assembled in the field of the Great Falls Village Centre for the community's annual Christmas tree lighting on Sunday.
Kids were busy during the three-hour event.
Children's choral groups sang seasonal songs in front of the tree as they waited for Santa and Mrs. Claus to arrive.
"I love how universal it is," says Pat Budwig, who owns Starshine Theater in Great Falls. "It includes everyone."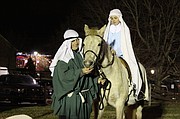 She has been attending the celebration for the last 25 years and played guitar for the performance by the King's Kids Preschool of Christ the King Lutheran Church. They sang "Twinkle, Twinkle Christmas Star," "Angel Band," "We Wish You A Merry Christmas," and an original song, "Happy Birthday Baby Jesus."
Students of the St. Francis Creche of the St. Francis Episcopal Church, the Village Green Day School, the Forestville Elementary School, the Great Falls Elementary School and the Colvin Run Elementary School also performed in front of the Christmas tree.
When children weren't singing, they were getting up in close with llamas, alpacas, goats, pigs, rabbits, guinea pigs, ducks, chickens and other animals at a petting zoo put on by Squeals on Wheels.
"We like the way the town of Great Falls kicks off the season," says Jill Phillips, who owns the petting zoo business with her husband John. "It's very family-oriented and we look forward to it."
For the fourth year in a row, Tracey Whysong of Ponies Plus brought her mixed-breed Shetland ponies from Nokesville for children to ride. This year children could choose between ponies named Lucky, Jelly Bean, Beauty and Boots.
"I bet we do over 100 rides in just a few hours," Whysong says.
By nightfall, Mr. and Mrs. Claus arrived by antique fire truck to light the tree. Children and parents who were waiting in long lines could meet with them to talk about their wish lists and to take photos.
The celebration ended with a live nativity scene put on by an all-female cast of students of the Black Hill Stables in Great Falls. Sarah Kirk, owner of the Saddlery in Great Falls, also played the role of Joseph.
This is the way the celebration has finished for the last 16 years, says Margaret Johnson, who used to run the Great Falls Horse Center.
"I'm a Christian and Christmas means we celebrate the birth of Christ," says Johnson. "I was brave and approached [organizers] about the celebration and said, 'It's Christmas, let's have a nativity pageant.'"
Now that Johnson is retired, Claire Abbott of Great Falls organizes the celebration's finale. She has had a lot of practice since she has been involved in the pageant under Johnson's leadership for many years, even playing the role of Mary.
"It's a Christmas gift to the community," Abbott says.
But Johnson still played a part in the tradition that she started by narrating the pageant from behind the scenes.