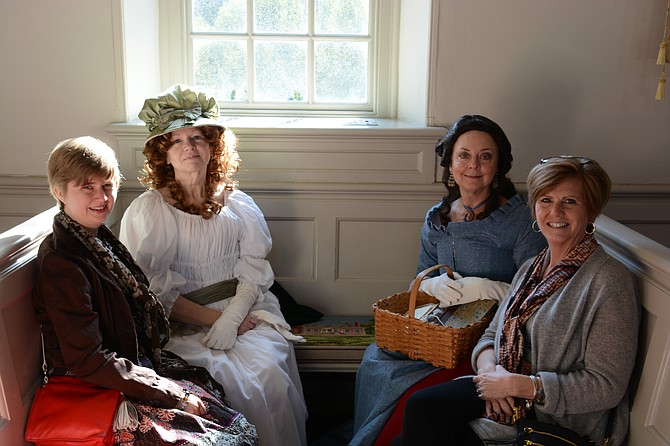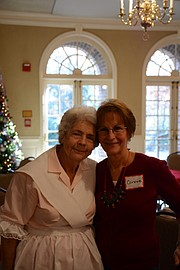 In recent years, it's poured on people like Janice Cranel while they waited for the Pohick Church Christmas Mart to open. Rain or shine, they would still line up in front of the modest red brick building where colonial celebrities like George Washington, George Mason and their families attended services. "We come for the fellowship, the delicious luncheon, sweet ladies, arts and crafts, jewelry and Christmas decorations," said Cranel.
"And casserole," added Woodbridge resident Gay Ruff. Longtime friends Ruff, Cranel and Haymarket resident Sarah McClellan have been coming to the Christmas Mart for 25 of its 55 years of existence. They left the Nov. 20 anniversary with jewelry, decorations and casseroles with names like "Posh Squash" and "Chicken Supreme."
The Mart included 16 crafters and vendors from around Virginia and Maryland, as well as a traditional holiday lunch featuring turkey salad, green beans, cranberry sauce, stuffed celery and pumpkin pie. The line-up hasn't changed in years.
Money raised from lunch guests and people purchasing donated jewelry and crafts goes to the Ann Mason and Martha Guilds, women's groups at Pohick Church that support local charitable organizations including the Lorton Community Action Center, New Hope Housing in Mount Vernon and Fisher House at Fort Belvoir.
"It's just amazing, the different levels of service," said Mount Vernon Supervisor Gerry Hyland, in between turkey salad and pumpkin pie, "with how many people eat here and then what they're able to give back." Hyland has been coming to the mart lunch for over 15 years.
Pat Osisek of Alexandria is a member of the church and helped sell donated jewelry, one of the biggest shopping draws of the mart. With numerous stands set up in the main hallway of the church office building, Osisek said "you couldn't move in here" while the mart was open between 11 a.m. and 2 p.m. "We enjoy doing it every year," she said. "We've been doing this part since 1980 and it's stronger than ever."
On the 55th anniversary of the mart, brilliant sun shone through the crisp fall air all day. Cranel, McClellan and Ruff could take time to enjoy the scenery walking their casseroles back to their cars.