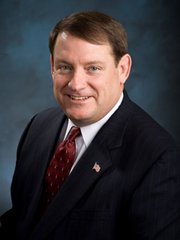 "Heroin is here, it's on our doorstep, it's in our communities and it often goes unnoticed," said supervisor Pat Herrity (R-Springfield).
Citing a 163 percent rise in heroin overdoses in Northern Virginia between 2011 and 2013, Herrity proposed a successful motion to the Board of Supervisors last week, asserting the County Executive report back to the board on just how bad the heroin problems in Fairfax County are and how they could be dealt with.
"This problem ranges through all demographics, it doesn't have a face," said Herrity, "and for that reason often goes unnoticed until it's too late."
The motion also added discussion of heroin and synthetic marijuana product K2 Spice to the agenda of the public safety committee meeting. As of press date, there isn't one scheduled.
"Having a conversation about the two things together is a good thing," said Lee supervisor Jeff McKay about addressing heroin and K2 Spice, "the new emerging problem police have identified."
"The county needs to be forceful in addressing it," said Braddock supervisor John Cook.
Spokesperson for the Fairfax County Police Department Lucy Caldwell said they planned to have people attend an Oct. 2 summit in Charlottesville on dealing with community heroin use.