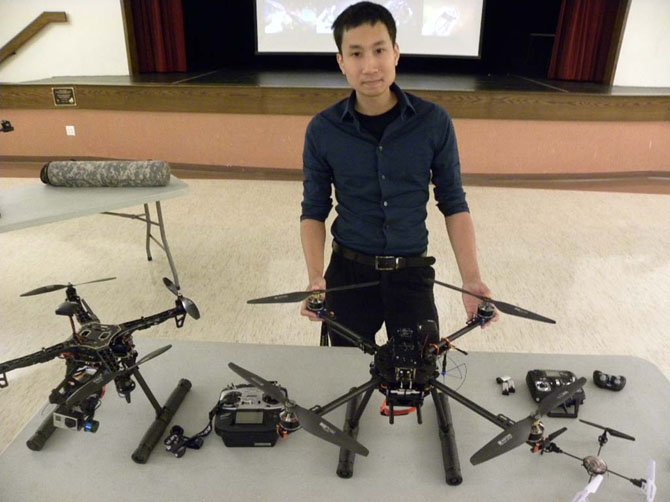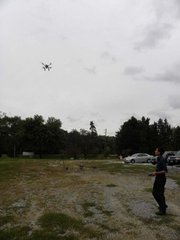 Parish Hall of the Church of the Good Shepherd in Burke was at full capacity on Wednesday, Sept. 24, for an Osher Lifelong Learning Institute at George Mason University (OLLI-GMU) lecture by Christopher Vo titled "Drones: Our New Toys, Tools, and Robot Companions." More than 140 OLLI-GMU members attended.
Vo, who grew up in Burke, is a doctoral candidate at George Mason University. His research focuses on the use of drones in shepherding, moving animals and people.
OLLI-GMU member Martha Powers contacted Vo to do a session when she saw a picture of him in The Washington Post flying a drone. "How cool! I wanna see drones. OLLI needs to have a drone class," she said.
Rich Goodwyn joined Vo and assisted with the demonstrations. Goodwyn and Vo are members of the DC Area Drone User Group. They displayed four drones of varying sizes. Three were quadcopters — multirotor helicopters — and one was shaped like an airplane.
Vo's presentation included the early history of unmanned aircraft systems, or drones, starting from a 19th-century photographer in a hot air balloon to cameras attached to pigeons. But it was during World War II that drones diverged from civilian to military use.
These days there are various uses for drones in the field of ecology, mapmaking and surveying, resources and agriculture, and search and rescue during disasters and crises.
However, issues regarding trespassing, invasion of privacy, criminal use, and general nuisance accompany these advantages. "There are potential bad uses for drones but this is true for all technology," said Vo.
Should drones be classified as aircraft? Most drone flights occur in Class G or uncontrolled airspace, which is from the ground to 1200 feet above ground level. There are few regulations in operating in this area, mostly they concern visibility.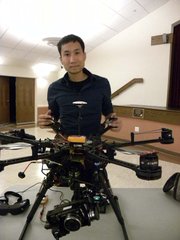 However, those who operate drones should be aware of the temporary flight restrictions in parts of Northern Virginia, which do not allow the flight of drones, said Vo.
VO DEMONSTRATED drones' hovering capabilities using the smallest quadcopter while inside Parish Hall but the class moved outside to watch the bigger quadcopters take flight.
OLLI-GMU member George Addison, of Fairfax City, was impressed with the presentation. "I might order the little small one from Amazon. I may even chase the cat with it," he said.
Goodwyn and Vo said that those interested in making their own drones can learn how and the cost to make one can range between a few hundred dollars to more than a couple of thousand. The DC Area Drone User Group holds workshops for all levels.
Vo's session was an experience in role reversal for Joan Lunsford, of Clifton. She knew him when he was about 10 years old. "He was a little mischievous, cute, funny." She was Vo's viola teacher at Keene Mill Elementary School in Springfield. "You never know what these talented students might end up doing," she said.
OLLI-GMU offers its 1,200 members the opportunity to continue learning with classes and seminars. Membership is $375 a year, which includes unlimited classes. For those interested in becoming members, there is an introductory rate option and an opportunity to sit in on a class.