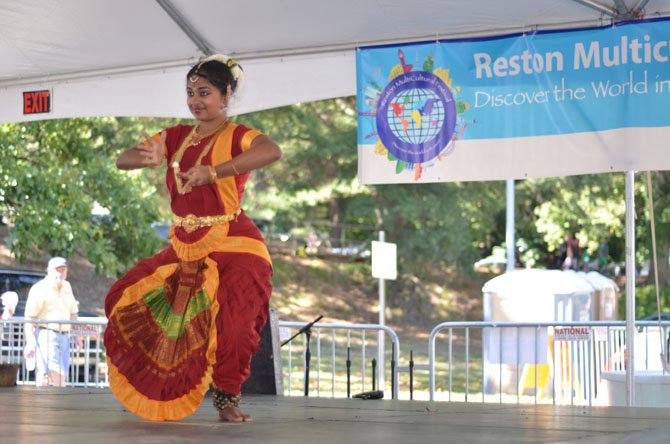 "We are here to celebrate all the local cultures of Reston," said Kevin Danaher, community events director for the Reston Community Center. On Saturday, Sept. 27 Lake Anne Plaza hosted the annual Reston Multicultural Festival. The annual event brings together the residents of Reston to celebrate a medley of cultures. The Reston Multicultural Festival was presented by Reston Community Center, and co-sponsored by Reston Association with partners from a variety of Reston-based organizations and businesses.
Last year, about 4,000 visitors came to see the performances, dress in native clothing and experience the other cultures that make Reston their home. "It is one of our most widely recognized events because it does demonstrate what Reston is all about, our diversity and putting aside our individual needs and passions," said Reston Association President Ken Knueven.
This was the fourth year the Multicultural Festival began with an official Naturalization Ceremony. Twenty-five Individuals from 22 countries around the world said the Oath of Allegiance and received their citizenship certificates. "I think everyone should have a ceremony like this, it is a wonderful event," said Lia Camacho a participant in the naturalization ceremony.
ATTENDING the naturalization ceremony and festival were Supervisor Cathy Hudgins (D-Hunter Mill), Reston's founder Robert E. Simon, and U.S. Rep. Gerry Connolly (D-11). "We celebrate new individuals who will vote," said Connolly. "I like to attend naturalization events because it reminds you not to take citizenship for granted." After the ceremony, members of folk dance group Alma Boliviana performed and led a procession of attendees to the next show. The festival featured dance and music performances throughout the day.
While performances took place at stages outside at Lake Anne Plaza, the inside of the Reston Community Center Lake Anne hosted an international book fair, in addition to a series of performances and storytelling exercises. Festival acts included: Chinese martial arts, Hawaiian ukulele and dance, Indian classical dance, Chinese opera and more. Special guests for the multicultural festival included National Heritage Awards fellows Vera Nakonechny and musician Elaine Hoffman Watts and the Fabulous Shpielkes.
Nakonechny grew up in Brazil and Philadelphia, where she learned intricate Ukrainian embroidery, beadwork, weaving, and other traditional forms from her mother. Nakonechny returned to Ukraine in 1991 to study with master artists and teach textile skills that were at risk of being lost after Soviet Union control of the region. Elaine Watts and the Fabulous Shpielkes offered everyone an earful of klezmer music. Elaine Watts is a third-generation klezmer musician, and a link to a Philadelphia-style Jewish klezmer sound.
In addition to visiting food vendors, there were signs pointing the way to Lake Anne's Cafe Montmartre, Singh Thai, and Kalypso's Sports Tavern which offer ethnic cuisine. There were also booths with representatives from community organizations including Reston Lions Club, Cornerstones, Amnesty International and the Peace Corps. "This is an awesome opportunity to promote what the Peace Corps does and share our stories," said Hannah Hamilton, a former Peace Corps volunteer who served in the Republic of Burundi from 1988 to 1991.
AS PART OF THE FESTIVAL, Reston Community Center Lake Anne is featuring Art Mirrors Culture, the Reston Multicultural Festival Intergenerational Art Exhibit. The exhibit on display at the Jo Ann Rose Gallery and 3-D Gallery runs until Oct. 5. It features works from local artists asked how art mirrors culture in their work. For more information about Reston Community Center events, visit www.restoncommunitycenter.com.