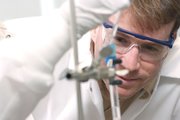 Two George Mason University professors recently won a prestigious and competitive grant that they hope will lead them closer to success in their fight against Alzheimer's disease.
Professor Joseph J. Pancrazio, chair of the Department of Bioengineering, and Professor Robin Couch, an associate professor in the Department of Chemistry and Biochemistry, were awarded grants from the Alzheimer's and Related Diseases Research Award Fund, which is administered by the Commonwealth of Virginia's Center on Aging.
"I am very appreciative to the Virginia Center of Aging for giving us the opportunity to pursue this new line of potentially high impact research," said Pancrazio.
Although they are using different approaches, both Pancrazio and Couch are studying ways to defeat or slow down the progression of Alzheimer's disease, which Couch characterizes as "the progressive deterioration of cognitive and functional abilities, leading to the loss of bodily function and death."
Pancrazio and his research team are looking at ways brain cells react to certain medications. "Our main research goal is to develop an engineering platform that can be utilized to study the underlying mechanisms of Alzheimer's disease and eventually to test new therapeutic options," said Pancrazio. "By growing brain cells, neurons, on a dish which is very similar to a computer chip, we can then measure the electrical activity of the cells and determine how the activity would change in presence of an Alzheimer's disease biomolecule such as amyloid beta peptide. We believe our platform provides a fast, non-invasive and accurate screening tool."
Electrical and computer engineering Ph.D. student Hamid Charkhkar is on Pancrazio's research team. "Every day, I feel more devoted to pursue this research, not only because it satisfies my scientific curiosity, but also [because] I am very hopeful that the outcomes of my research would potentially help patients with Alzheimer's disease," he said.
Couch and his research team are treating brain cells with molecules to prompt them to release a "nerve growth factor," a protein that keeps neurons alive.
"While the complexities of Alzheimer's disease and its progression make it an academically stimulating research topic, the gravity of the disease and its effects on the population are the true driving forces behind our efforts at George Mason."

— Justin B. Davis
"While the pathology of Alzheimer's disease is related to the accumulation of protein deposits — or plaques — in the brain and the death of specific neurons, the currently employed therapeutics address the cognitive decline, but do little to halt or even slow the progress of neuronal decay," said Couch. "A radically different approach to the treatment [and] prevention of AD is known as neuroprotection, which involves the use of therapeutic agents, such as nerve growth factor, to defend the neurons from death. Nerve growth factor, naturally produced in the brain, binds to … the neurons associated with Alzheimer's disease and promotes their survival."
Justin B. Davis, who is the lead Ph.D. student Couch's research team, said, "While the complexities of Alzheimer's disease and its progression make it an academically stimulating research topic, the gravity of the disease and its effects on the population are the true driving forces behind our efforts at George Mason."