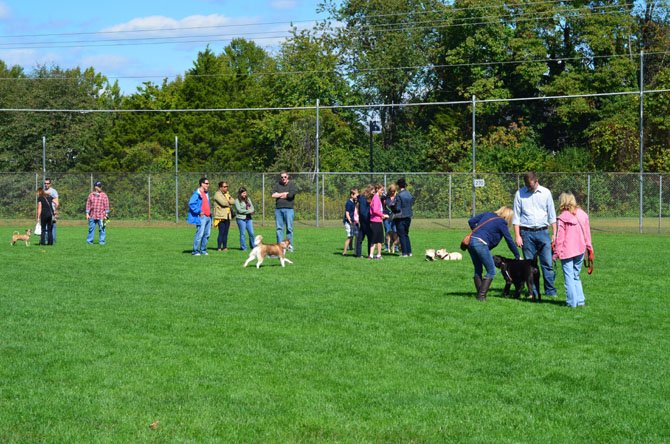 Herndon Parks and Recreation hosted their inaugural dog event at Bready Park on Sunday, Oct. 5. "I always thought Herndon should have a dog event," said Dave Zakrzewski, a town of Herndon employee who helped coordinate the day's activities. "The planning was just getting commitments from other people." The event featured owner and dog team contests, adoptions, an off leash area and a variety of dog themed vendors.
"I think it is great," said Kelly Keaton, "Just getting the community together to advocate community wellness." Keaton and Zakrzewski brought their dog Toad to event. "It is a great resource to pet owners," said Abby Kimble, Herndon Park and Recreation Marketing Specialist. "I think the attendance is wonderful. It is a free event and a great opportunity for dogs and owners. It is nice to see some families out and about." Herndon Community Center will evaluate the results of the event to determine if it will be held again next year.
Some businesses and organizations committed to the event this year included the Animals' House, All Friends Pet Care, Dogtopia of Herndon, Canine Carousel, Herndon Animal Medical Center and Whole Pet Central. Also attending were representatives of A Forever Home, a non-profit dog rescue group that operates in the Northern Virginia/Washington D.C. area. "It is a nice event," said Thomas Horton, a volunteer with A Forever Home. "It can only help our cause because we have so many dogs who need a home." A Forever Home holds adoption events on Sundays at the Chantilly Petco at Lee Jackson Memorial Highway.
Another group attending the Herndon event was Ambassador Pit Bull Alliance."We are a foster-based group that does a lot of education on breed discrimination," said Phuong Ngo who was representing the group. Ngo attended the event with her two dogs Kaida and Kabuki. "Pit bulls are the underdogs of the dog world," said Ngo. "We are just trying to break some stereotypes." Ambassador Pit Bull Alliance is dedicated to educating the public about responsible dog ownership, proper care and training.
SOME OF THE EVENTS included owner and dog team contests. Herndon residents Mary and Joe Seeger participated in one of these contests with their dogs Oreo and Comet. "We figured this would be something fun to try," said Joe Seeger.
Reston resident John Stultz and his son attended the event to take a look at the different types of dogs. "We are kind of testing the waters to see what kind of dog would be a good fit for us," said Stultz.
An attraction of the event was the off leash area made into a temporary dog park. A section of the baseball field was opened and dog owners had the opportunity to let their canines romp about without leashes. Members of the community organization RestonDogs, Inc. helped monitor operations at the off leash area.
"This is a great event," said Herndon resident Kirk Myers who let his dog Fletcher run about the off leash area. Myers learned about the event when he saw a sign at the Reston dog park at Baron Cameron Avenue. "I would most definitely attend this next year, I hope they do it again."