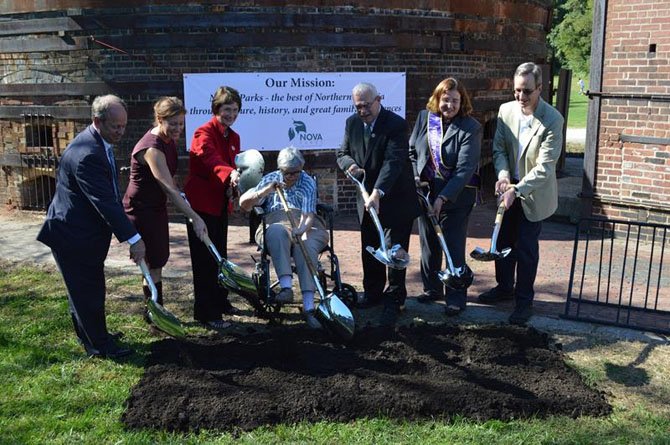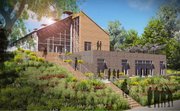 The characteristically humble Jean Packard allowed just a little egotism at the idea of seeing her name on a new center at Occoquan Regional Park.
"It's wonderful, I'm delighted," said Packard. "To think the regional park authority thinks I deserve this honor is really icing on the cake."
Packard, the first female Chairman of the Fairfax County Board of Supervisors and trailblazer for women in county politics, more often cites the help she's received before accepting recognition.
"You would never know that she had been Chairman, that she had run for county office," said current Fairfax County Board of Supervisors Chairman Sharon Bulova. "She's a person who will roll up her sleeves and get dirty picking up trash or pulling out invasive weeds."
But at the Sep. 27 groundbreaking of the Jean R. Packard Occoquan Center, part of a massive facelift to the entire park, she was the center of attention.
"It's a real privilege for us to be able to honor our long-time colleague and friend Jean Packard," NOVA Parks Chairman Brian Knapp said at the ground-breaking. "She's done so much for Fairfax County and, in turn, for NOVA Parks. This is a wonderful reminder to the region what a great leader she's been."
Packard's sizeable list of public and environmental service roles and accomplishments spans five decades. She was also the first woman elected to the Virginia Soil and Water Conservation Board, president of the Northern Virginia Conservation Trust and served 24 years as Fairfax County representative on the Northern Virginia Regional Park Authority (now NOVA Parks) before stepping down within the past few months.
"Sometimes, people serve as Chairman and then go off and do other things," Bulova said, addressing and honoring Packard at a recent board meeting. "Jean has stayed in Fairfax County and been involved in just about every substance. Just to keep her expertise involved, in a positive way, that really is exceptional. You've really left a tremendous legacy for us here."
THE NEW BUILDING bearing Packard's name and legacy will be a multi-use focal point in the park, among other renovations that include landscaping at the park entrance, a new 3.1-mile trail encircling the park, a group rental center, roads and parking areas.
A key component of the Packard Center will be a historic/environmental education area that highlights the park's New World history with Captain John Smith coming up the Occoquan River, as well as its significance to the 20th century Suffragist movement: the 1917 imprisoning of women protesting in Washington for the right to vote in the Occoquan Workhouse. The Center is the future site of a Suffragist memorial.
"It makes sense to celebrate what happened right there," said founder of the Turning Point Suffragist Memorial Jane Barker. "It was Jean's vision to include the Suffragists' story in the park there."
"We have a chance to honor them," said Packard. "I think that is very great. It seemed like such a logical tie in."
"In terms of the environment, the Suffragists were very concerned about the world around them," said Clifton resident and Fairfax County History Commission member Lynne Garvey Hodge, "for that world to be a healthy world. Jean's focus, I think is a very strong reflection of that Suffragist theme."