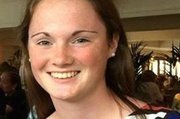 Some time before noon on Oct. 18, a search team from the Chesterfield County Sheriff's department discovered human remains on an abandoned property along Old Lynchburg Road in southern Albemarle County.
Charlottesville Police Chief Timothy Longo addressed the media that night saying the remains have yet to be identified by the medical examiner, though Hannah Graham's parents John and Sue were contacted shortly after they were found.
"This, sadly, is now a death investigation," said Col. Steve Sellers chief of the Albemarle County Police Department. That department is now leading the investigation because of where the remains were found.
"The longer this lingers on, I believe the worse it is for the Graham family," said Craig Maniglia, Graham's softball coach at West Potomac High School. "There needs to be some sort of closure, some sort of goodbye, memorial. Something that lets them try to put the pieces of their lives back together, gets the community healing as a whole going forward."
Maniglia said Graham touched players spanning multiple years, who are all heartbroken and struggling with how else to feel about the situation.
"Any child that's 15, 16, 17, you put something like this in front of them and they don't know how to react," he said. "They're just distraught, looking for answers. I'm not sure they'll ever be answered, to solve the mystery for all the people who say 'Why Hannah?'"
Longo called the five-week search "unprecedented," involving "countless hours, thousands, by literally hundreds of law enforcement and volunteers in an effort to find Hannah."
"We think perhaps today proved their worth," Longo said.
The second-year UVA student and West Potomac alumna was last seen early in the morning on Sept. 13, on a surveillance tape of Charlottesville's Downtown Mall.
Last month police charged 32-year-old Jesse Leroy Matthew Jr. with abducting Graham "with intent to defile" following his arrest in Galveston, Texas.
On Oct. 20, Fairfax County Commonwealth's attorney Ray Morrogh announced Matthew was charged by a grand jury earlier that day with three felony counts connected with the Sep. 24, 2005 sexual assault of a Fairfax woman. [See story below.]
"There's hope, always hope, that things happen for a reason," said Maniglia. "In times like these it's hard to find out the reason. If it was to bring down this man, then that's a heavy price to pay. I would've rather her legacy be she cured cancer. That's where that kid was headed. She was going to do something big."
Albemarle County Police are urging any person who may have seen or heard suspicious activity in the area of Old Lynchburg Road to call 434-296-5807.