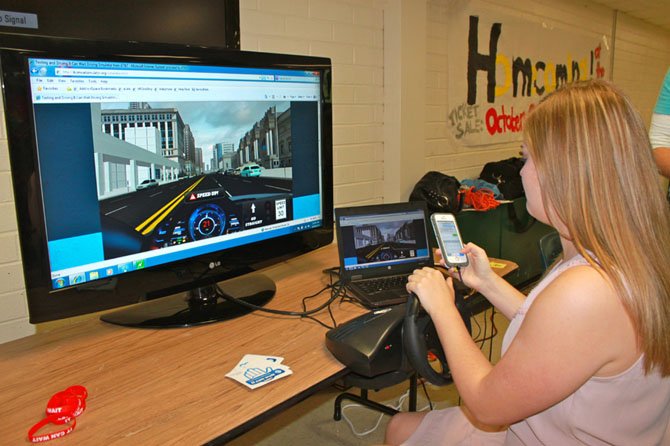 Hanna Hunt was behind the wheel, phone in hand. When a text popped up, she had a choice. Would she answer it?
Hunt, a senior at Langley High School, was playing a simulated driving game during lunch, so when she "crashed" her car earlier that day, she walked away with zero consequences.
The simulator was a part of the school's theme of the year - road safety - in partnership with AT&T's It Can Wait campaign to give students a reality check on Oct. 16 for how texting on their phone affects their driving.
"It's become very cliche to hear, 'Don't text and drive,' and they don't take it seriously," she said.
She noted that other students admitted some of their real life fender benders happened after they attempted to text while driving.
Langley students like her had the opportunity to play the simulator and sign a pledge that they would never text and drive again.
"Distracted driving is relevant to everyone regardless of age," said school Family Network Committee co-Chair Betsy Shomaker. "It's not a problem here, but it's something that we need to be aware of."
This year's theme was inspired by the summer's Langley Read: The Adoration of Jenna Fox. Later this year, she is organizing an alcohol awareness program.
"Some studies have shown that 200,000 crashes a year can be attributed to texting and driving," said AT&T Director of Public Affairs Daniel Langan. "We know it as a problem among younger drivers."
In addition to AT&T, representatives from Inova Health and State Farm were also at the event.
Shomaker said some of the younger students have told her that they see their parents text behind the wheel. Some of the older students bragged that they would be great at the simulated driving game, because they drive and text frequently.
"A lot of them are coming away very surprised," said school Director of Student Services Sonya Williams. "They realize they're not as good at it as they thought."
She said the program comes during an important time of year - Homecoming Week. As new drivers head out on the road, it is a reminder to remain alert and get rid of anything that can serve as a distraction for new drivers.
Hunt said the event is the only interactive event the students have had at the school. She said it had a good message.
"I have a brother who is a freshman, and I definitely have to set an example for him," she said.
Others may not admit to texting while driving, but they do, she said. She encouraged students to text #X to those they were texting before driving to let the other person know to not send them a text until the driver is at their destination.
"There was one student from Langley who was texting and driving this year and totaled the car," she said. "It was really bad."
For more information on the It Can Wait campaign, visit http://www.itcanwait.com.