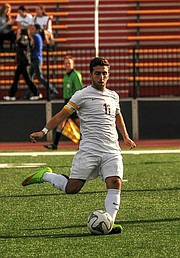 Joey Faddoul had to humble himself before he could reach his potential on the soccer field.
In 2013, the sophomore received honorable mention in the Washington Catholic Athletic Conference, but his attitude hindered his ability to accomplish even more. He didn't take criticism well and carried an inflated sense of his abilities. He had the talent to be a goal-scoring force — and he knew it — but his production left room for improvement.
Now a junior, Faddoul has matured into a team captain and a leader. His attitude has improved and his goal-scoring talent is unmatched in the Washington, D.C.-metro area.
Faddoul, a first-team all-WCAC selection, netted a hat trick on Tuesday during a 3-2 victory over Good Counsel in the WCAC tournament quarterfinals at Witter Fields in Alexandria. Faddoul's three goals gave him 27 for the season, making him the area's top goal scorer, according to stats from the Washington Post's allmetsports.com. Faddoul also leads the Cardinals in assists.
"I guess you could say I thought I was better than I was," Faddoul said. "I kind of humbled myself a little bit last year, in the second half of the season. This year, I'm more mature and I take every criticism positively and I work as hard as I can."
Faddoul gave Ireton a 1-0 lead with a goal in the seventh minute. In the 61st minute, he extended the Cardinals' advantage to 2-0 by dribbling through defenders before using his left foot to deposit the ball in the net.
Good Counsel proved resilient, however, and tied the score at 2-all with a pair of goals in the next 10 minutes. In 74th minute, No. 11 scored the game-winner on a free kick.
"I just waited for the wall and the wall automatically backed up," Faddoul said. "I asked the ref if I had to wait for the whistle. He told me I could go whenever I wanted. I saw the keeper on the post and I just hit it."
The victory advanced Bishop Ireton to the WCAC semifinals, where the Cardinals will face DeMatha at 3:30 p.m. on Thursday, Oct. 30 at Heurich Field in Hyattsville, Md.
"I think today was a fine example of the kind of kid he has become, the kind of player he has become," Bishop Ireton head coach Jon Norem said about Faddoul. "He's always had it. Big players show up in big games and I think today was a statement. Last year it was there, it just wasn't his year. He's matured a lot on and off the field."
Bishop Ireton (13-4-2) will also compete in the VISAA state playoffs, starting with a home match against St. Anne's Belfield at 3:45 p.m. on Friday, Oct. 31 at Fannon Field.
"I'm very proud of the boys for not putting their heads down and [not] being defeated because a lot of teams can do that once you've given up those two goals," Norem said after the Good Counsel game. "I've got a great group of kids."