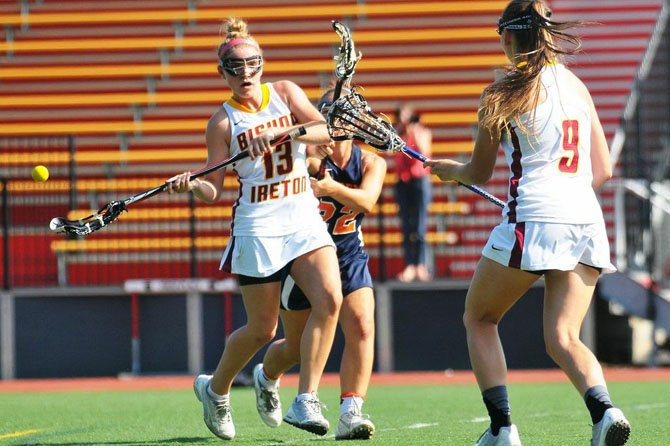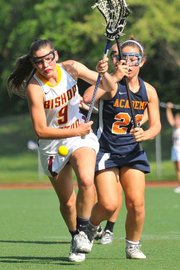 Members of the Norfolk Academy girls' lacrosse team made a lot of racket during pregame stick check, seemingly attempting to manufacture intensity before taking on one of the top teams in the state.
Once Tuesday's VISAA state quarterfinal matchup started, the Bishop Ireton Cardinals let their sticks do the talking.
One day after capturing the program's first Washington Catholic Athletic Conference championship, Bishop Ireton took care of business against Norfolk Academy, beating the Bulldogs 19-6 during the state quarterfinals at Fannon Field. With the win, the Cardinals (18-4) secured a trip to the semifinals, where they will face Bishop O'Connell at 11 a.m. on Friday, May 16 at Collegiate School in Richmond.
The Cardinals maintained their focus against Norfolk Academy despite their significant accomplishment the previous night. Bishop Ireton defeated Good Counsel 17-7 on Monday at the University of Maryland to win the WCAC title. The Cardinals lost to the Falcons 12-8 during the regular season on April 8, but BI head coach Rick Sofield said his team was completely healthy this time around. Sofield also said the Cardinals varied their defense looks, and he let junior Kaitlin Luzik, the team's defensive captain, call the defenses on the field.
"With this group of girls, I spent the first half of the season trying to build them into something that I thought they should be, and that was the wrong approach," Sofield said. "What I really needed to do, and what I've done the last month, is I've gotten out of their way. I need to just let them play, let them be them, and then they're most successful."
It was Ireton's fifth appearance in the WCAC championship game. The Cardinals lost to Paul VI in 2004 and fell short against Good Counsel three times, including last year's title game. Getting back to the WCAC final and taking care of business has been a long-time goal of the Cardinals, who started offseason workouts back on June 6.
"It was so surreal. It was amazing. We've been working for 11 months, so we deserved it. It was the greatest feeling in the world."

— Bishop Ireton junior Charlotte Sofield
"It was so surreal," said junior Charlotte Sofield, who is committed to the University of North Carolina. "It was amazing. We've been working for 11 months, so we deserved it. It was the greatest feeling in the world."
Senior Kendall Cunningham, who played her freshman season at West Potomac High School, has said she came to Bishop Ireton to win championships.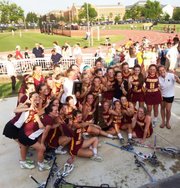 "I was hungry," she said. "I don't think I've had a bigger rivalry than with Good Counsel. We wanted to beat them. The first time we played them earlier in the season, it was a rough game for us and last year in the conference finals, [it made us come] back hungry."
Cunningham will play at Rhodes College in Memphis, Tenn. Senior goalkeeper Olivia Cole will play at the University of Florida.
One day later, Ireton was back on the field against Norfolk Academy, where an experience during the regular season helped keep the Cardinals focused.
Ireton defeated Georgetown Visitation, one of the area's strongest programs, 13-12 on April 7. One day after the big win, the Cardinals lost to Good Counsel. Against Norfolk Academy on Tuesday, Ireton avoided a letdown.
"We played a game like that against Visi and then against Good Counsel and we lost and we knew we didn't want that to happen again — we weren't letting that happen again," Charlotte Sofield said. "We used that motivation and that fire, knowing how losing when you shouldn't lose feels like and never wanting to feel like that again."
Cunningham led Ireton with four goals against Norfolk Academy. Sofield, Kelly Mathews and Kelly Larkin each had three. Larkin finished with five assists, while Sofield and Cole, the goalkeeper, each had two.