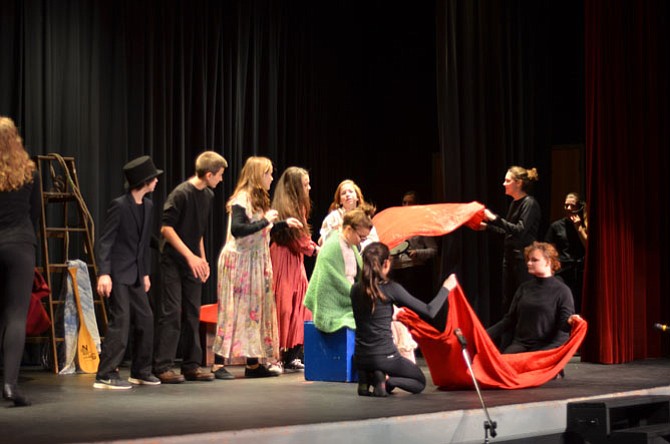 Eighth grade students in the class of Herndon Middle School drama teacher Scott D. Pafumi performed a one act play on the history of Herndon on Oct. 23 at Herndon Middle School. The one act play covered the period from 1858 to the present. "The students have done an amazing job of bringing this play to life," said Pafumi.
Attending the evening show was Herndon Mayor Lisa Merkel. "Herndon Middle School's production of 'Herndon Town' was a treat to attend and I was honored to be in the audience," Merkel said. "The actors captured the essence of Herndon's history, highlighting the struggles and triumphs of our great town with humor, humility, honesty and poise." The show was free to the public.
"Last spring I made the decision that I wanted to create an original project for my 8th grade advanced theatre class," said Pafumi. "Since I started working in Herndon in the fall of 2011, I have been enamored of the warmth and close knit community that makes up this town. I was curious about the town's history and how this community became what we are today, from a collection of dairy farmers to a high tech corridor of business and commerce."
"The students were taken through a unique process of creating an original piece," said Herndon Middle School Assistant Principal Matt Lanoue-Chapman. "They got to wrestle with local history and local issues." Topics in the one act play included the great Herndon fire of 1917, the Herndon railroad stop, the civil rights era, and the Day Laborer Center story. Members of the school's advanced theatre class attended the weekend Virginia Theatre Association (VTA) conference, Oct. 23-26, at Norfolk. The production was staged at the conference.
"In doing some preliminary research I found out that we had some pretty interesting stories that put our town on the map," said Pafumi. "In pitching this idea to my principal, Mrs. Klena, she gave me some ideas of what would make for great storytelling, herself a history major. Specifically, she told me not to shy away from the recent controversy surrounding the Day Laborer issue. I had no idea how much that would entail in the research, writing, and performing of that topic." Pafumi hired playwright Kristen LePine to help construct the play.
In 2007 the Town of Herndon closed a day laborer center established in late 2005 as an alternative to the streets for laborers and prospective employers to come to terms. The center was operated by Reston Interfaith, operating under a grant from Fairfax County, which did not require workers to document their immigration status. The day laborer center became a topic of political debate.
"As we built to that issue, I wanted to show connections to stories of our past where the town had to deal with change and social upheaval," said Pafumi. "In sticking with the theme of what it takes to make a community, the playwright and I tried to build a scaffold of stories that would lead up to our 21st century identity as a small town that is still dealing with change. Our hope is that the play reveals a sense of hope and pride in our growing town."
"I really like drama," said 8th grade student Rose Bailey who participated in the play. "I think the play goes with this year's theme of community, and I really like working with everyone." Bailey said she will consider taking drama class when she enters Herndon High. "It has been a really fun time putting the play together," said Sarah Smith, who performed in the play with her sister Caitlin Smith.
"Powerful is one of the first things that came to mind," said Judy Bowns, a co-founder of The Cappies program and former Herndon High School teacher. Bowns attended the afternoon show and shared her review of the play with the student actors. "What I loved about the cast is they didn't falter, they stayed right with it. I was very impressed."
In May 2015 the Herndon drama class is planning a field trip to visit Broadway and New York City. In addition to working at Herndon Middle School, Pafumi is an adjunct theatre professor at Northern Virginia Community College at the Loudoun campus. He earned a BA in Theatre and English Literature at Virginia Tech, and holds a Masters in Arts Management from George Mason University.