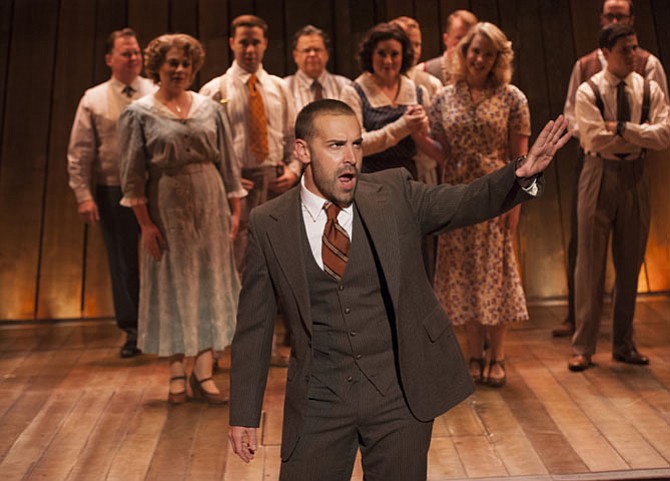 Signature Theatre in Arlington is staging the musical, "Elmer Gantry," through Nov. 9. The play centers on charismatic, but completely broke salesman Elmer Gantry, who stumbles upon a struggling religious tour, led by evangelist Sister Sharon Falconer.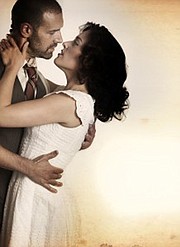 Falling for Falconer, the conman Gantry joins the troupe as a preacher and transforms the revival into the hottest ticket in town. Inspired by Falconer's earnestness and his reawakened spirit, Gantry inserts one spectacle too many and risks blowing up the entire operation.
The show stars Charlie Pollock (Broadway's "Violet") and Mary Kate Morrissey ("Hair" -- International Tour) as Elmer Gantry and Sharon Falconer and Nova Y. Payton ("Dreamgirls") as Mary Washington.
Pollock plays the role of Elmer Gantry, a failed preacher, itinerant salesman and grifter. "He is a guy who is always looking for a mark," said Pollock, who is required to sing 2.5 octaves for the production. "He is also an alcoholic sex addict, which makes him the perfect hero for a musical."
"The real challenge with Elmer was to find a way into the character without judging or commenting on him. It is always a trap for an actor to deem his character's behavior or actions as 'bad' or 'immoral'," said Pollock. "So the challenge for me was to just embrace Gantry as Gantry. Check myself at the door and dive in 100 percent."
Pollock said he thinks the play is ultimately a tale about the dangers of fanaticism. "Fanatic love, fanatic faith, fanatic lust for money -- can all be very dangerous. I hope the audience walks away thinking about what they are fanatical about and that they take stock to see that they have the right checks and balances built into their lives."
The play is based on the 1927 novel by the same name by Sinclair Lewis. It was made into a 1960 film starring Burt Lancaster, Jean Simmons, Arthur Kennedy and Shirley Jones. It won three Academy Awards in 1961, but the movie presents fewer than 100 pages of the novel.
Show times are Tuesday and Wednesday at 7:30 p.m., Thursday and Friday at 8 p.m., Saturday at 2 p.m. and 8 p.m., and Sunday at 2 p.m. and 7 p.m. Tickets are $47.55-$96.25. For tickets, call Ticketmaster at 703-573-SEAT or the Signature Box Office at 703-820-9771 or visit www.signature-theatre.org. Signature will hold specialty discussion nights on Oct. 28 and Nov. 5.