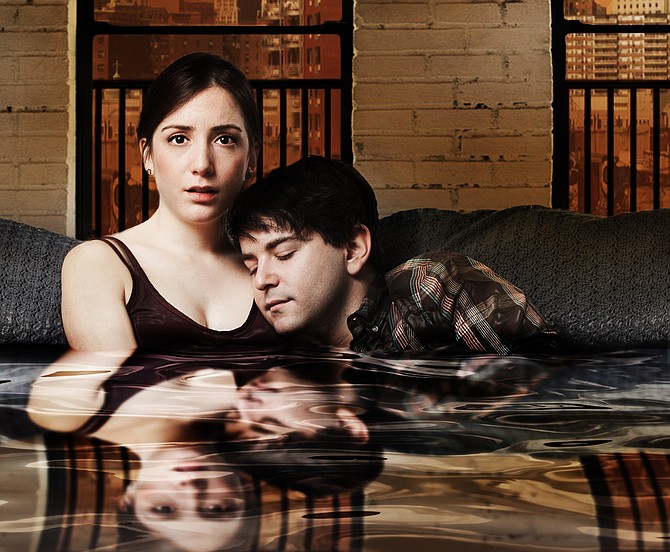 Directed by Matthew Gardiner, Signature Theater is presenting the world premiere of the musical, "Soon" by Nick Blaemire through April 26.
The action centers around the hottest summer in human history and, in a few months, all water on earth will evaporate. In response, 20-something Charlie has taken to her couch with only her beloved possessions: peanut butter, Wolf Blitzer and Herschel, the fish. Her mother, roommate and sometimes-boyfriend all attempt to persuade her to leave her apartment and enjoy life. However, as Charlie's memories take over, more complicated reasons for her hibernation emerge as she confronts her deferred dreams and considers the possibility of life and love just outside her door.
The show features Alex Brightman as Jonah; Natascia Diaz as Adrienne; Jessica Hershberg as Charlie; and Joshua Morgan.
Jessica Hershberg's character, Charlie, is a 20-something baker living in the East Village of New York City with her roommate Stephen. "She's grounded, pragmatic, and as much as she likes to hide it, quite sensitive," Hershberg said.
She said what's challenging about this piece and what makes it the most exciting is that it's layered, complex, nuanced and deeply human.
"Without giving any spoilers, things are not always as they appear in our show, and so as the actor you have to do a lot of work sorting the truth out for yourself, and for your character," Hershberg said.
"I hope the audience leaves feeling excited and hopeful about the future of musical theatre! We can tell insightful, deep, complicated stories that are just as nuanced as 'straight plays' that also employ music — which touches our souls like nothing else can," she added.
Alex Brightman plays Jonah, a highly personable, sarcastic, charming, and financially well-off heir to a grocery store delivery chain.
"His life comes with few hurdles, and when he meets Charlie, he is fascinated by the woman inside the girl. He falls for her immediately and sees in her a cause worth fighting for," he said.
This musical is a mix of naturalism, hyperrealism, and surrealism and it was a challenge to balance it all, he said.
"On a more personal note, I rarely play a love interest, and it is a new experience for me," Brightman said. "Going from playing mostly quirky side characters to playing a romantic lead is a fun leap with its own unique challenges ... like making a pretty girl fall for me every night."
He adds that the play is thinking-person's play.
"I hope that audiences will be moved by a story that is complex and heartfelt," he said. "Theatre is an escape, and I hope the audiences feel that we have taken them away for an hour and a half and presented them with a story that will give them something to think and talk about for the ride home and beyond."
"Soon" runs through April 26 at Signature Theatre, 4200 Campbell Ave., Arlington. Performances are Tuesdays and Wednesdays, 7:30 p.m.; Thursdays and Fridays, 8 p.m.; Saturdays, 2 p.m. and 8 p.m.; and Sundays, 2 p.m. and 7 p.m. For tickets, call the Signature Box Office at 703-820-9771 ot visit www.signature-theatre.org.