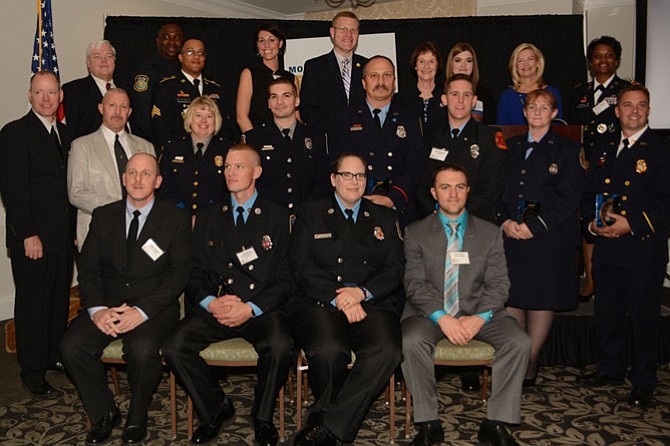 "These are the people who run towards danger when the rest of us run away," said Sharon Bulova, Chairman of the Fairfax County Board of Supervisors at the seventh annual Police & Firefighters Tribute sponsored by Mount Vernon Lee Chamber of Commerce where 21 personnel were honored.
Bulova along with Supervisor Jeff McKay, and Fort Belvoir Commander Col. Michelle Mitchell praised the first responders and public safety personnel from local stations in Fairfax County and Fort Belvoir. Julie Carey with News 4 emceed the event and shared her personal thanks for community police and fire fighters.
"Public safety personnel have a calling to protect the public." said McKay, "You don't know family until you know the families for these men and women who serve in public safety." McKay requested that all family members present stand and they received applause from the audience.
Special recognition was given to local businessman Michael Bennett, CFO and partner in the Ourisman Automotive Group for being a founding sponsor for the event. Bennett was recognized as a consistent supporter of this event and a friend to public safety personnel.
Award recipients from the Mount Vernon Police Station were Auxiliary Officer of the Year Keith Shaver; Detective of the Year Brian Smith; Meritorious Service Award MPO Steve Mattos; Police Officer of the Year PFC Bradley Chiz, and Supervisor of the Year Lt. Dana Robinson.
Fort Belvoir Fire and Emergency Services recognized Christopher Scott Wolff as Firefighter of the Year and Erin Eusanio as Firefighter Medic of the Year.
From the Fort Belvoir Police Department award recipients were MP of the Year Sgt. David M. Payamps; DA Security Guard of the Year Tracey Dunko; Civilian Police Officer of the Year Officer Frank Sims; and Detective of the Year Heidi L. Flick.
Award recipients from Fairfax County Fire & Rescue Department were Volunteer Firefighter of the Year Neal Sweeney; Meritorious Service Award Master Technician George Moore; Company Officer of the Year Captain I Lester Flint; Firefighter of the Year Lt. Rick Trudeau; and EMT/Medic of the Year Technician Victoria Callow.
Receiving special recognition from the Franconia Police Station were Auxiliary Officer of the Year APO Athena Caul; Meritorious Service Award Lt. Randy N. Gulick; Detective of the Year Scott Brown; Police Officer of the Year PFC Chris A. Dixon; and Supervisor of the Year Lt. Michael P. Tucker.