Welcome to the 2014-2015 school year! As the 10th largest school system in the nation, Fairfax County Public Schools (FCPS) continues to evolve and focus. We reorganized, created a Portrait of a Graduate (http://www.fcps.edu/supt/portrait/index.shtml), began to develop a strategic plan and multi-year budget. We are preparing students for life in a global economy, and are moving away from rote memorization to 21st century skills of communication, collaboration, creativity and critical thinking. We are taking steps to attract and retain the best teachers.
What is not new is a trend of increasing enrollment, poverty and non-English speakers, inadequate facilities, and strained budgets.
Each of our 196 schools is a unique shining star. Today, I am highlighting two schools in the Providence District: Marshall HS and Oakton HS.
Marshall High School
Marshall, aligned with Region 2, is led by Assistant Superintendent Dr. Fabio Zuluaga, Executive Principal Jay Pearson, and Executive Principal for School Improvement Terry Dade.
Marshall High School received national recognition for their new "Statesman Station" which provides students and staff with healthy menu options. Principal Jay Pearson was recognized as "FCPS Principal of the Year," and has since been promoted to Executive Principal, Region 2. We welcomed Mr. Jeffrey (Jeff) Litz as the new Principal for Marshall High School effective Aug. 18, 2014. Marshall continues to experience change through their building renovation which began in the summer of 2011 and is expected to be completed in December of 2014. This renovation will provide additional educational space, a complete refurbishment of the entire facility, including a new, high efficient mechanical and electrical system, additional parking, new kiss and ride and an underground cistern to collect rainwater for irrigation.
The Marshall Academy is a designated Governor's School for their science, technology, engineering, and mathematics (STEM) Academy. In July, Air Force Association CyberPatriot National Commissioner Bernie Skoch named FCPS a CyberPatriot Center of Excellence. Superintendent Dr. Karen Garza and I attended, along with industry professionals, CyberPatriot students, and representatives from Northrop Grumman, CyberPatriot's presenting sponsor. The Center of Excellence designation is awarded to communities and institutions that provide leadership and support to further the educational experiences of their students through the CyberPatriot program. Marshall Academy's cyber security club is a three-time national finalist in CyberPatriot competitions. CyberPatriot established the Centers of Excellence program in 2011, and thus far, only four other entities have been recognized nationally.
Oakton High School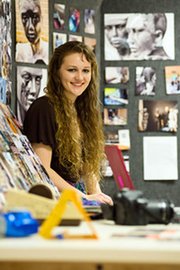 Oakton, aligned with Region 1, is led by Assistant Superintendent Douglas Tyson and Executive Principal Evangeline Petrich.
Charged with envisioning the Oakton High School graduate of the 21st century, an interdisciplinary team of ninth-grade teachers met in 2011 to discover and capitalize on cross-curricular connections. As a result, the team established Freshman Learning Goals – real-world, interdisciplinary skills upon which students reflect throughout the year by maintaining portfolios and presenting their work to the community at an Exhibition of Learning and to faculty through a final Presentation of Learning. Oakton has designed a unified Portfolio Learning Program requiring critical thinking, communication, creativity, collaboration, and citizenship for all Oakton students. Through innovative leadership in best practices, including interdisciplinary collaboration and an emphasis on project- based learning (PBL), Oakton High School is a pioneer in changing the face of 21st century learning for FCPS.
Oakton High School continues to outgrow its current facility with projected student enrollment of more than 2,240 students for September, 2014. The school will house 13 temporary classrooms this fall to accommodate the student body.
The Oakton High School renovation will begin with the planning process this fall.
Based on current conditions, we expect that the construction funding for the project will be contained in the 2017 Bond Referendum with a construction start in 2018.
As we continue moving towards later high school start times for 2015, we have worked closely with all stakeholders, including sports organizations, to minimize impacts to after-school activities. I am grateful for the cooperation of all involved as we focus on well-rounded students-- stellar academic achievement, along with physical and emotional well-being.
I encourage you to get involved with your local schools—whether you are a parent, employed worker, retired individual or an empty nester. We recognize that we all have a stake and role in helping each child to reach his or her potential. I am proud to represent the Providence District and look forward to seeing you in the schools and communities!