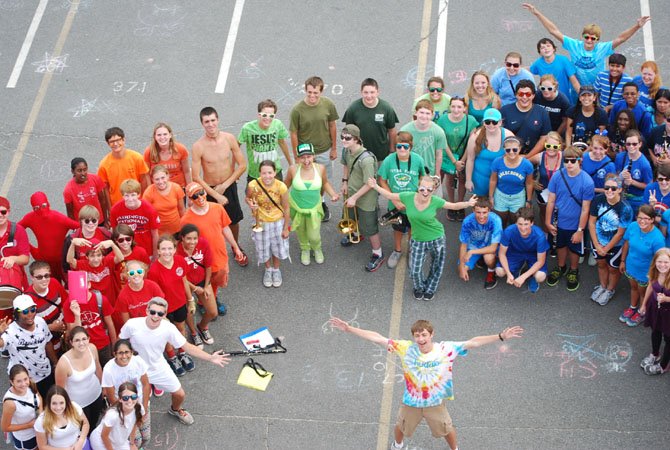 The Herndon High School Marching Band has been preparing and practicing their show, the Final Frontier, since the first week of August. The first two days of camp consisted of 33-member leadership team learning how to be effective leaders of this 147-member band. The leadership staff is mainly new this year with the departure of 36 seniors last year. The leadership staff concentrated on practicing to call marching commands, receiving advice on working with diverse personalities, learning how to be an effective teachers through paradigm, and prepared their sections folders with music, drill and the band handbook.
The leadership staff greeted students who are new to the Pride of Herndon Marching Band during Rookie camp on Wednesday and Thursday of the first week of camp. Rookie camp is a great opportunity for the leadership staff to welcome the rookies. The rookies get to know their section leaders, captains, Drum Majors, and administrative leaders on a more one on one basis. They also get to know their fellow freshman classmates and learn basic marching commands. Freshman Steve Rea said, "Rookie Camp was very fun, I liked it a lot. Setting drill and drill downs are my favorite parts of band camp because they are fun and important. Band camp on the first day was great as the upperclassmen were really nice and didn't mind helping me with marching or setting drill."
Week two of band camp welcomed the returning upper classman. Band camp is from 8 a.m. - 5 p.m. Monday through Friday for the following two weeks. The band has three weeks to learn the music, drill (placement on the field) and choreography for the show. Band camp can be considered intense, exhilarating, overwhelming, fun, thrilling, and a huge sense of accomplishment. Qualities exhibited by band members include: team work, respect for themselves, their band mates and instructors, patience, energy, great enthusiasm, perseverance, and Pride.
The 2014 Marching Band show, the Final Frontier, includes selections from: When You Wish Upon a Star, Magnificent Seven, The Good, The Bad & The Ugly, Cantina Band, Ashokan Farewell, Jupiter (from The Planets), and How the West Was Won. Kathleen Jacoby is conducting her seventh show, as the HHS band director. "The band is moving incredibly fast. The music and band performance will be a high quality product. I think audiences are going to be really entertained with the mixture of fun, catchy movie tunes and classic songs they grew up with. The 147 marchers will stretch end zone to end zone. Our rookie marchers are working hard to match the level of excellence from our returning players, and our veteran marchers have once again set a new bar for our program," states Jacoby.
Senior, Christine Horting, loves the show this year because it is recognizable and in-your-face. "I am very excited to be a senior because I wanted to be that person people could look up to. I wanted to be the senior who always knew what was happening and how to do everything, and now I am that person. Its bittersweet that this will be my last year . This band has taught me so many unforgettable lessons that the 'Pride' will never leave me," says Horting
Another Senior, Laura Mister, said, "Being a senior is absolutely terrifying and amazing at the same time. In my own path, I have gone from a crying freshman who fell on the field, to a senior who is leading the way for the new freshman. I'm so proud of my band and my band mates, and of the accomplishments we have achieved. This year's show is going to be a good one."
Freshman, Alison Bliss says, "Marching band has been quite enjoyable. I love meeting new people. One of my favorite part's of marching band is to watch the large color guard since we did not have one in middle school. I also like sectionals so we can work with someone who knows a lot about clarinet and receive more individual attention."
The HHS Marching Band will perform before the games and during half time at Herndon's home football games. Home games are on Sept. 12 and 19 and Oct. 24 and 31. The Herndon Band will host Showcase, US Bands Northern Regional Competition, on Saturday, Sept. 27.