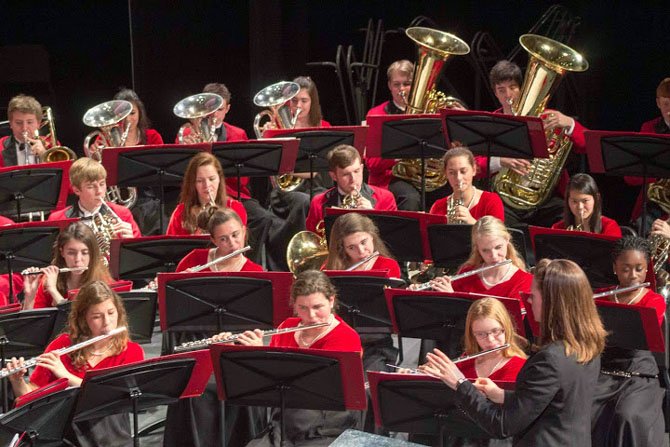 On May 20 at Herndon High auditorium, the Herndon High school (HHS) band presented their final major band production for the school year. This event showcased work by the percussion, flute choir, sax choir, jazz band, symphonic band, and wind ensemble. "I am really proud of our seniors," said Kathleen Jacoby, HHS Band Director. "It was a culmination of all their work over the past year." Helping narrate the show was Herndon High senior Blake Morgan.
One of the songs performed was by the jazz band was composed by band member and senior student Sean Donald. The music suite for the concert band was made up of five numbers from the musical Candide, which was based off of Voltaire's political satire. That evening it was announced next April 22 the Herndon High marching band, Pride of Herndon, will be traveling to Disneyworld in Orlando, Fla. to march in the Magic Kingdom Parade and sight read music for a Disney movie track.
The band took time that evening to recognize student teacher Dan Edwards. A student of George Mason University, Edwards had nine weeks teaching experience at school locations including Herndon High. "He was really friendly with everyone and encouraged everyone to improve on their instruments," said junior Christine Horting who plays the trumpet. "My entire past semester has involved student teaching," said Edwards. "It was so great to be welcomed in such a loving community… I hope I will obtain a full time position teaching music education in Northern Virginia."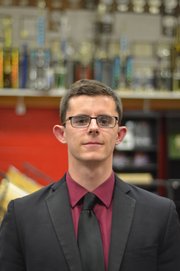 At the conclusion of the spring concert, a table was set with photos of the graduating seniors and information on their future plans. "My biggest memories were the Hawaii trip," wrote senior Dasha Bradfield, referring to the December 2013 trip in which the Pride of Herndon marching band represented Virginia in the 2013 Pearl Harbor Memorial Parade. Bradfield also thanked Mrs. Jacoby and other staff for their encouragement and kindness.
In other news, the Herndon Wind Ensemble was invited to perform at the Virginia Music Educators Conference this fall. Only three high schools in the entire Commonwealth are asked to perform each year. Also The Herndon Council for the Arts has announced their 2014 Scholarship Winners, which include seniors Tiberiu Baicoianu, Blake Morgan and Ronan O'Day. This year each student was awarded $1,125 to attend the high quality arts program to which they were accepted. The students were recognized by Mayor Lisa Merkel at the May 27 Town Council meeting.
Earlier in May was the annual Fairfax County Band Directors Association Competition, recognizing the top soloists in all of Fairfax. Herndon High sophomores secured two of the top three places. Recognition went to Jacob Reeves who won second place, performing the Creston Concerto on marimba, and Aimee Toner who won third place, performing Poem by Griffes on flute. Other upcoming Herndon High band events include the June 9 Band Awards Banquet. From Aug. 11 to Aug. 28 will be the Marching Band Camp.

To read more about Herndon High Band, visit herndonband.net.