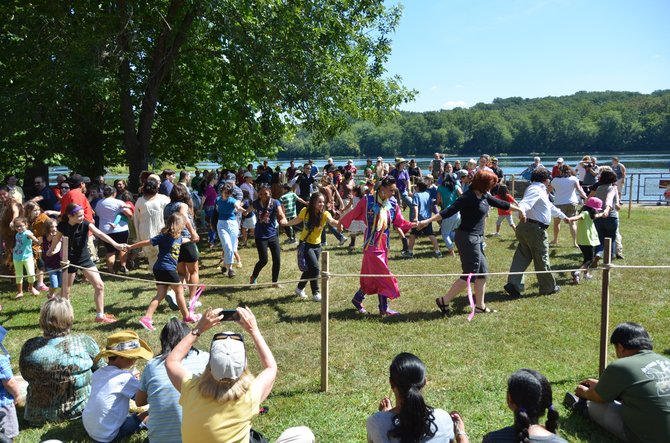 Riverbend Park in Great Falls will be hosting its 17th annual Virginia Indian Festival on Saturday, Sept. 6. Members of eight tribes will gather on the banks of the Potomac River from 10 a.m. to 3 p.m. to share and celebrate their culture. Admission to the event is $5 per person.
Park visitors will enjoy hands-on activities and live demonstrations including storytelling, shooting bow and arrows, throwing spears, and making stone stools, and the popular Rappahannock dancers and drummers will perform traditional dances while dressed in colorful native costumes. Visitors may also explore a longhouse and help build a dugout canoe. Crafts, pottery, and jewelry will be available for purchase in the marketplace.
"As to the origin of the festival, about 17 years ago I was surprised how much misinformation was being taught in the schools regarding Virginia's first people," stated Park Manager Marty Smith. Riverbend Park has claim to being a significant site in Fairfax County for Native American culture due to archeological sites in the area. "I wanted to create an event which would allow people, families and kids to meet real people from the tribes, allow them to see their culture, talk to them and find out from the source who Virginia's first people are today and who they were hundreds of years ago," said Smith. "Secondly, and just as importantly, I wanted this to be a celebration of Virginia's tribes." To reach these objectives representatives from numerous tribes will be participating. "We have many hands-on activities and we have the Rappahannock Tribal Dancers dancing, singing and drumming," said Smith.
AN ADDITION to this year's festival is the expanded use of the longhouse, a classic Virginia tribal home in use before and at the time of contact with the English. The longhouse is made authentically, and allows visitors to step inside it to get a better feeling of what home life was like for American Indians in Virginia. Roads leading to the park will likely become congested and parking will be limited so arriving early is recommended. The event will be held rain or shine.
Riverbend Park has over 400 acres of forest, meadows, and ponds. Trails include a 2.5 mile portion of the Potomac Heritage Trail linking national and regional parkland. Kayakers and canoeists can enjoy exploring many islands in the Potomac River. Serious anglers and families can bring a boat or fish from the shady riverbank. Nature highlights include spectacular river views, beautiful wildflowers and birds.
On Friday, Sept. 19, Riverbend Park will host a program on bats. Through games and activities, visitors will learn why bats are disappearing from our skies. The one-hour program begins at 6 p.m. The cost is $5 per person.
Park grounds are open 7 a.m. to dusk, hours posted. Gates are locked at closing time. Facilities include a visitor center with snack bar, gift shop, exhibits and riverside picnic area.
THE PARK has a nature center available for rent. The park's picnic shelter is available by reservation. An information desk, self-guided activities for children, live animal displays and natural and cultural exhibits are at the visitor center. Riverbend Park is located at 8700 Potomac Hills Street in Great Falls, Va. For information, call the park at 703-759-9018 or visit their website at www.fairfaxcounty.gov/parks/riverbend-park/.