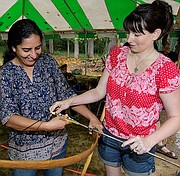 Northern Virginia's premier celebration of Native American lifestyles is coming to Riverbend Park. This fall's Virginia Indian Festival is set for Saturday, Sept. 10, 2016.
This exploration of the history and lives of Virginia's First Families includes many hands-on activities. Park visitors will shoot a bow and arrow, throw a spear, help build a dugout canoe, and learn to use ancient tools. There will be stories told, demonstrations of primitive technology, and a chance to enjoy traditional dancing featuring the Rappahannocks.
Arts and crafts produced by Virginia tribes will be for sale, and there will be food concessions as well.
Festival hours are 10 a.m. to 4 p.m. on Saturday, Sept. 10. Admission is $6 per person in advance or $7 at the door. More information is available by calling the park at 703-759-9018 or by visiting the park website at Riverbend Park. Riverbend Park is at 8700 Potomac Hills Street in Great Falls, Va.