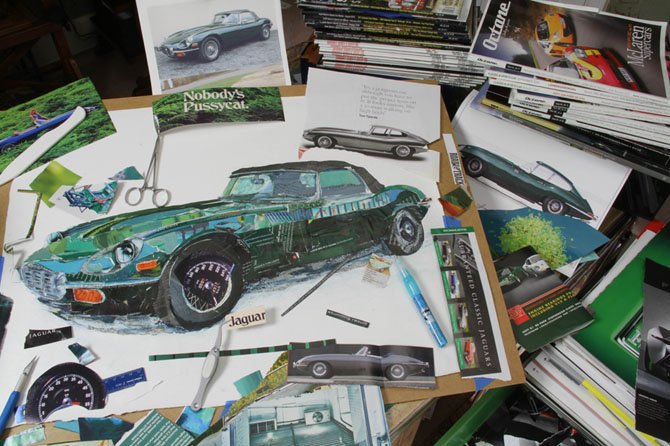 Every October for the past 10 years, Great Falls Studios has invited the public to wander the back roads of Great Falls in search of the innovative, the lovely, the bizarre, the useful, the whimsical and the unusual creations on display in the studios of local working artists.
This year the Tour will be three days -- Friday Oct. 17, Saturday, Oct. 18, and Sunday, Oct. 19 -- from 10 a.m. to 5 p.m. each day. There will be 50 artists in 26 venues throughout Great Falls.
One of the artists is Heidi Mraz (Studio # 10). Mraz is a contemporary fine artist best known for her intricate collages of high-end collectible automobiles. Her artwork is remarkably polished and refined considering her medium -- torn bits from car magazines, press clipping and more. Her clever treatment of the materials leads viewers through a playful ride that is skillfully engineered to fool the eye into seeing a photorealistic illustration of a car from a distance, but take a step closer and the collage shifts to a deeper narrative blended within the overarching image.
In 2011, inspired by her passion of classic cars and Katie's Cars & Coffee - a Mecca for car enthusiasts that turns out a bevy of classic and rare cars weekly - Mraz began her "Must Love Cars" collage series that included the iconic race cars from the late 1950s thru the early 1970s. Today Mraz is concentrating on commissions that are built from a palette of torn test notes, historical data, schematics, magazines, photos and more. The finished artwork is virtual scrapbook of the storied history of the automobile portrayed.
"The trickiest part is designing an image that's fine tuned enough to look like a photo from a distance," Mraz said. "When in actuality, it's a bed of organized chaos and abstract colors." It is that clever unconventional interplay of elements that make Mraz's work unique.
Nowadays Mraz's passion for painting all things automotive is fueled on by an endless source of inspiration that is just around the bend from her working studio and gallery. Most Saturday mornings, she can be found at Katie's Cars & Coffee where she has just begun another series of automotive art using coffee to paint cars.
Mraz is one of the 50 artists who look forward to sharing their creative ideas and energy with the public. The tour is a free self-guided driving tour of the back roads of Great Falls to visit artists in their own creative spaces—from a rustic farmhouse to a contemporary home, from a one-artist studio to a studio with several artists working.
The tour is sponsored again this year by Sun Design Remodeling, an award winning home remodeling company. Sun Design will have a recently remodeled open house on the tour, with its creative staff on hand to discuss new projects visitors may have in mind. Both organizations benefit from this association, building on the creative energies of their artists and designers to provide an important service to the community.
The Tour Headquarters will be at the Great Falls Library, where there will be an example of the work of each artist on the tour. Visitors may sign in to win Art Bucks valued at $50 toward the purchase of art during the tour. The book, Studio Tour: the Creative Spaces of Great Falls Artists, which features 16 Great Falls artists at work in their studio spaces accompanied by text describing their art and their creative process will be available for purchase during tour days at the library and at many of the artist venues.
The tour is family-friendly and its primary purpose is educational—it's a great opportunity to see artists at work in their own creative habitats, enjoy the fall landscape, and perhaps get some ideas for adding art to your home or office, or get started on a creative remodeling project. If you'd like to make a day of it, the Old Brogue Irish Pub will be open for lunch and dinner.
Go to the Great Falls Studios website at www.GreatFallsStudios.com to plan your visit. The site has a new section with images and descriptions of work by all the artists on the tour. After Sept. 15, you may download a map and brochure, or just pick up a brochure at the Great Falls Community Library, or at any stop along the tour.
Visit the Sun Design website at www.SunDesignInc.com for inspiring images and more information about their award winning style.