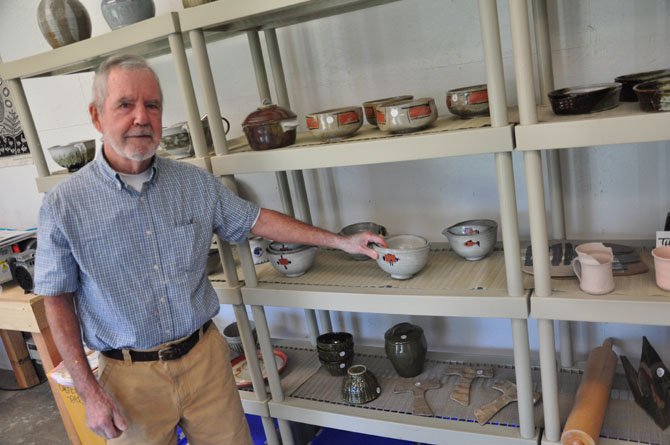 In 2003, Laura Nichols invited three local artists to a meeting in her kitchen to talk. As they say, "the rest is history!" In 2013 Great Falls Studios (GFS) is celebrating our 10th anniversary—a great opportunity for us to introduce ourselves to new neighbors. GFS includes 115 artists creating in a wide variety of media, in studio spaces scattered through out Great Falls.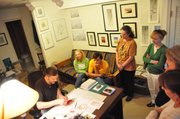 Close to 1.5 percent of the village households are represented by a working artist, creating in garages, barns, spare bedrooms or at kitchen tables. Some have designed home studios specifically outfitted for our craft. One artist works plein air, her easel perched on river rocks or on park paths. Three group studios dot our town: AHH! (Art Happens Here), Art Studio on the Green & Gallery and the Artists' Atelier. The group strives through collaboration, to support the artistic endeavors and objectives of members and to make Great Falls a more artful place.
What a great year to meet us—it is our birthday and fun and fanfare are planned. Everyone is invited.
Saturday, Oct. 5, at the Great Falls Library, 9830 Georgetown Pike, the community is invited to meet GFS artists, view some of their original work, enjoy hands-on activities and learn the stories of their studios. A 10th Anniversary book, "Creative Spaces: Inside the Artist's Studio," spotlighting 16 GFS members, our philosophy and workspaces is scheduled to be released that day. It promises to be a community occasion to celebrate creativity.

Saturday, Oct. 19 and Sunday, Oct. 20, 10 a.m.-5 p.m. both days, join GFS on a self-guided driving adventure to art studios tucked along the scenic roads of Great Falls at the 10th Annual Great Falls Studios Art Tour: 60 member artists—painters, potters, sculptors, jewelry makers, photographers, digital artists, a weaver, a printmaker, a wood carver, three quilters, a knitter, a layered-paper artist and other talented folk will be opening the doors to their individual studios, the three group ateliers in town, and several shared venues created just for the weekend.
Artists will be demonstrating their crafts and techniques, engaging in inspiring conversation and some will offer visitors a chance to touch, dabble or scribble. All artists will be selling art "Made in Great Falls." In the words of Laura Nichols, potter and founder of Great Falls Studios, "Sometimes visitors leave with a piece of art they have chosen, but they always leave with a story."
For the third year Sun Design Remodeling Specialists, Inc., an award winning architectural design-build firm, is a generous sponsor of Studios Art Tour. They will be exhibiting the craftsmanship that has earned them recognition as a home remodeler, at the house tour running concurrent with the art tour. They, too, are celebrating a milestone: 25 years of building, design and relationships in the community.
Throughout the weekend, the Great Falls Community Library will serve as "Studio Tour Headquarters." Tour information will be available and a photography exhibit in the large conference room will feature the portraits of the 16 GFS members and their studios featured in the 10th Anniversary book. Dean Souleles, co-editor and photographer, will be on hand to answer questions.
Dec. 14 & 15, Great Falls Studios and Sun Design, Inc. will be at the Wolftrap Education Center, 1645 Trap Road, Vienna, for a Holiday Show & Sale. GFS member artists will be offering art "Made in Great Falls" for sale. Sun Design will have information and professionals available to discuss how to reinvent your home to enrich the way you live. In addition to original paintings, photographs, wall hangings and jewelry, there will also be high quality prints, pots and dinnerware, purses, pillows and scarves, walking sticks, art cards and books. Something quite unique for individual collections or a perfect gift for a special friend, teacher or family member.

Throughout the year, GFS manages several exhibit venues in our community: Katie's at The Olde Brogue Irish Pub/760 Walker Road, Seneca Hill Animal Hospital Resort & Spa/11415 Georgetown Pike, and a new space featuring the work of local elementary school students at Starbucks at Great Falls Center/9862 Georgetown Pike.

GFS artists are also regularly featured exhibitors in the Large Meeting Room and Small Conference Room at the Great Falls Community Library, 9830 Georgetown Pike, and hang two all-media, all-member shows there each year. GFS donated to the library the art hanging system, used by all exhibitors.
Great Falls Studios manages a busy and always improving website with images of their member work, artists' bios and links to individual artists' websites. A monthly themed exhibit at the Virtual Gallery makes art as close as the click of a mouse.
GFS members have been juried into recognized shows and their art hangs in corporate and personal collections around the country and in small business, professional offices and not-for-profit art venues in the metropolitan area. Many teach children and/or adults in their home studios or in local art programs.
Great Falls Studios artists are good neighbors and friends; they look for opportunities to reach out to members of the community and are proud of a tradition of participating in local events, and collaborating with other community groups including Great Falls Foundation for the Arts (another arts group in Great Falls, with a different purpose), Great Falls Citizens Association and Celebrate Great Falls. In early July, three Great Falls photographers presented at all luncheons for members of the Great Falls Senior Center.
More information, including artist bios, and links to their websites at http://www.GreatFallsStudios.com/ and http://www.SunDesignInc.com/about-us.html.
And some of the GFS members meet for coffee on Thursday mornings at Katie's. Drop in sometime.