The Reston store of fashion-forward clothing retailer Anthropologie has donated its window display of more than 10,000 hand cut and hand painted paper Monarch butterflies to the Great Falls Garden Club for use in the club's new exhibit on the wildflower and native grass meadow at the Great Falls Library.
Great Falls Garden Club
The mission of the club is to improve the quality and character of gardens; to study subjects pertaining to gardening; to exchange experiences and information on gardening problems and to encourage the protection of natural resources, native plants, wildlife and scenery. Meetings are held on the second Thursday of the month, September through June, usually at the Great Falls Library, at 1 p.m. Non-members wishing to attend a meeting should either be a guest of a member or contact the Club via email for information. The club can be reached at gfgardener@gfgard... or by mail at P.O. Box 1412, Great Falls, Virginia 22066. More information on the club can be found at http://www.gfgard...">www.gfgardenclub.org.
"Several years ago we began work on designing and planting a wildflower and native grass meadow in the storm water retention pond in front of the Great Falls Library," said Club President Joan Burkgren. "With financial assistance from numerous local organizations, we have achieved a beautiful and environmentally-beneficial habitat for all kinds of wildlife and pollinators, including Monarch butterflies. In fact, the meadow has been certified as a Monarch Waystation by Monarch Watch as well as a Wildlife Habitat by the National Wildlife Federation."
To educate people in the community about the benefits of a meadow and to provide information on the specific plants in this one, club members created a resource book and long-term exhibit that will be enhanced by the 10,000 paper butterflies donated by Anthropologie.
"Every April, the windows of Anthropologie stores become more than a showcase for artful installations – they become a platform for our Earth Day efforts, a means to raise awareness of causes near and dear to our hearts," said display director Erika S. "This year we paid tribute to the Monarch butterfly, whose annual migration – one of nature's greatest spectacles – is at risk of disappearing due to vanishing habitats, extreme weather and increased use of herbicides."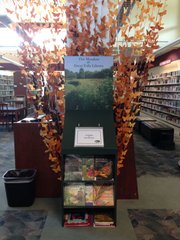 "It is awe- inspiring to think that the butterfly, a species so small and humble, can complete an annual migration of epic proportions. There is so much beauty within these tiny creatures and yet they are so greatly at risk," she continued. "We hope to give them a voice – one that allows people to hear their story, to share it, and to see how simple it can be to help them flourish. We are delighted to donate the Reston display to the Great Falls Garden Club to help draw attention to the plight of the Monarchs and increase the community's awareness of the value of having a meadow that will help the butterflies complete their long journey."
The Eastern population of the orange and black butterflies migrates thousands of miles from Canada to Mexico. The caterpillars feed exclusively on milkweed, which is declining in many areas because of development. Monarch Way Stations, such as the meadow at Great Falls Library, provide access to milkweed as well as shelter for the butterflies that pass through our area on their migration in the fall.
In addition to the meadow, the Great Falls Garden Club designed, installed and maintains the large perennial garden at the library, as well as the Blue Star Memorial at the Great Falls Village Centre. More information on the meadow can be found on their blog, www.GreatFallsGardenClub.wordpress.com.