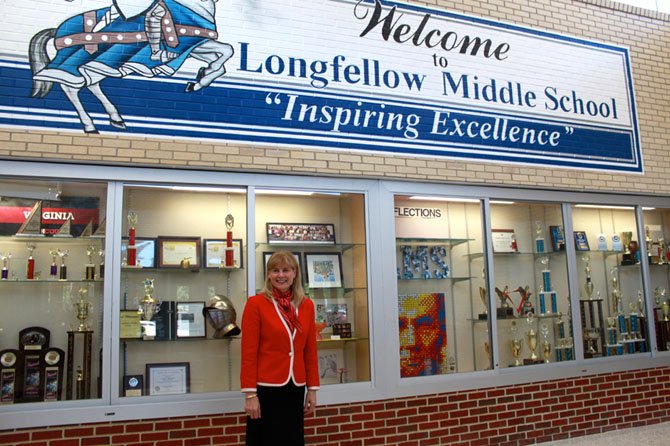 Carole Kihm, principal at Longfellow Middle School, remembers her love for educating children and pre-teens when she was in high school.
Her lifelong love for education paid off when she was named Outstanding Middle School Principal of Virginia by the Virginia Association of Secondary School Principals earlier this year.
"This is my absolute favorite job," she said. "I have the ability to impact the life of a student or family every single day, and it's an exciting place to be."
She said that during her first year as Longfellow's principal seven years ago, she turned around test scores in a major way. The school did not make Adequate Yearly Progress that summer, she said.
"As principal, you just come in and feel everything out that first year, but I had to really come in and make some changes," she said.
THE FOLLOWING YEAR, every one of the criteria measures were in the 90s, she said.
Kihm believes the award is not just for her - it's also for the students, teachers and parents that make the school a successful place to learn and a fun place to be.
In addition to her position as principal, she has served as an assistant principal, counselor and high school teacher. She and her husband Ed moved around a lot. One of her positions was in Germany, she said.
She received her award last week during a conference. She met with the award recipients from every state and learned how many schools - just like her own - educate their students well despite budget cuts and staffing shortfalls.
"It was such a great collaboration among the 50 states," she said.
As a former teacher, she relishes the opportunity to work with students. She has a 30-person Chesterbrook Assisted Living Club weekly for students to visit the community. Once a month, she holds "Pizza with the Principal" after school to get feedback about what students love about the school and what they would change about it. When she's not communicating with students, she is giving feedback to teachers.
"I'm in the classrooms 85 percent of the time," she said.
IN PAST YEARS, Kihm has headed the middle school principals' association, where she got to know Fairfax County Public Schools Superintendent Dr. Karen Garza well. Garza came to support her last week when Kihm received recognition for the award.
"Carole is a student-centered innovative education leader who has developed a strong school community at Longfellow Middle School," said Garza. "We are fortunate to have her as a friend and colleague in Fairfax and congratulate her on this well-deserved recognition."
Chief of Staff Marty Smith has also worked with Kihm directly and was impressed by her drive.
"Carole has done an exemplary job as principal at Longfellow Middle School," he said. "Since being named FCPS First-Year Principal of the Year in 2009, Carole has been recognized and heralded for her collaborative team building and innovation."
While Kihm is excited about the award, she was especially excited the reception was nearby in Arlington. While many of the principals she met had to fly across the country, she just got back in her car. She was ready to come back to work.
"I get up at 4:30 every morning and, really, I'm like a little kid again," she said. "I can't wait to get here."