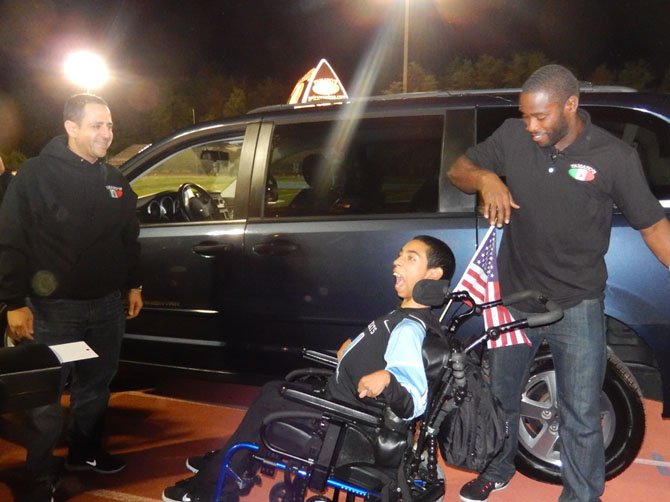 Photo Gallery
'[This] Will Change Our Lives'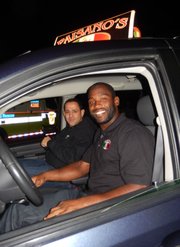 Click Photo for Flash
Last Friday, Sept. 12, was a night when dreams came true. On Centreville High's football field, the Wildcats trounced West Potomac, 54-0. And on the sidelines at halftime, Centreville senior Juwaan Espinal, 17, was presented with an accessible van.
Juwaan has cerebral palsy, and the van will enable his mother to transport him to places more easily and bring his power wheelchair home from school so he can use it full time. And it was made possible by teamwork between the community, football player Pierre Garçon and Paisano's Pizza.
"It's overwhelming," said Juwaan's mom, Ibis Espinal, of Centreville's Centre Ridge community. "I didn't think this day would come – but it did."
Born with cerebral palsy and wheelchair-bound, Juwaan is unlike his peers, yet he's one of them. A huge football fan, he's been unofficially adopted by both the Wildcat varsity and freshman football teams and is an honorary captain, wearing a Centreville jersey adorned with the number one.
He has a ton of friends at school and, although he can't communicate with them verbally, they text each other and "talk" regularly via Facebook. He has pals to each lunch with and he also belongs to his school's Best Buddies chapter.
But as Juwaan's grown, it's become harder and harder for his petite, single mom to lift him in and out of their car. His sister Shanelle is away at college, so there's no one to help his mother on a daily basis.
Furthermore, he had surgery in September to correct the 75-degree scoliosis curve in his back because it was affecting his lungs and other internal organs. And as he healed, he grew 4 inches from the spine-straightening and then another 3 inches on top of that, and gained 30 pounds.
As Juwaan became too big for his mother to carry, getting him in and out of her small SUV became a real ordeal. She needed an accessible van for him, but her insurance didn't cover it. And after losing her job as a mortgage-loan processor and an auditor, money became even tighter for them as she struggled to pay the bills, including those for Juwaan's physical therapy.
She had a tough time lifting his wheelchair into the car. But even more important, getting her son into a car seat was potentially harmful to him. "I had to bend him to get him in the car seat – which I'm not supposed to do because of the rods in his back," said Ibis Espinal. "So it was compromising his wellbeing."
Wanting to help Juwaan, but knowing she could never do it alone, she took to social media and started a GoFundMe account for him. The goal was to someday raise enough money for an accessible van. And the community responded, with people pledging whatever amounts they could.
After three months, they'd raised $9,567. Trouble was, even a used accessible van costs more than $25,000. And that's when Fouad Qreitem, owner and CEO of Paisano's, stepped in to help. Once he learned about Juwaan and the fundraising efforts, he contacted Espinal and spoke with her.
It's not the first time he's come to the aid of local youth in need. As a businessman and a father of two daughters, he believes it's his duty to give back and lend a hand where possible. "It's great to be part of the community and help others," he said. "I want Paisano's to be known for helping people in the community."
For a week, from Aug. 25-31, Qreitem donated 50 percent of the sales from all of his Paisano's locations – including Centreville's Bella Pizza – to the cause. Next, he got his buddy, Washington Redskins wide receiver Pierre Garçon, involved.
"I told Pierre about Juwaan and he was happy to participate," said Qreitem. "Then we put together a fundraiser. On Aug. 26, Pierre went to the Paisano's in Arlington and, for everyone who donated $25, he took photos with them and signed autographs."
The two fundraising campaigns raised a total of $23,000 and, combined with most of the money from the GoFundMe account, it was enough to purchase a $28,000 accessible van – including taxes and extended warranty – from a dealership in Richmond. The remainder in the account will be used for the van's maintenance and insurance.
It's a dark blue, 2008 Dodge Grand Caravan with a rear entry with a pull-down ramp for the wheelchair. And once Juwaan is rolled inside the van, his wheelchair can be locked in place so it doesn't move.
It was presented to him Friday night, during halftime of the football game – and it came as a surprise to him. He was also surprised by who delivered it. Since Paisano's is in the pizza business, Qreitem and Garçon drove the vehicle up to Juwaan – complete with a lighted, Paisano's sign atop – as if they were delivering him a pizza.
When they stepped out and he saw who was there and realized their purpose, he arched in his wheelchair, waved his arms and smiled. Simultaneously, the fans in the stands jumped to their feet and erupted into loud chants of "Juwaan, Juwaan."
Garçon chatted with him, posed for pictures and also gave him four tickets and sideline passes to last Sunday's Redskins game. The football player also shook hands with and signed autographs for some of the students. And he said how glad he was to do what he could for Juwaan.
"It's great; it gives me a good feeling to help out," said Garçon. "It's nice being able to be in a position to help, especially a family that needs it so much. And it helps the community, too, to see Juwaan able to get around and enjoy all these activities. This is exciting."
Also happy was Centreville High Director of Student Activities Jimmy Sanabria, who was pleased with the community's fundraising efforts, as well. "We're family here in Centreville; and each time someone's in need, help has always come," he said. "It's a tribute to the community and I'm proud to work here."
As Espinal saw the accessible van drive up to them along the track around the football field, she said, "I'm very happy – I have no words." After awhile, though, she was able to express what the vehicle will mean to her son. She said it'll improve his mobility, allow him to use his power chair outside of school and enable him to be more independent.
"The van will change our lives in so many ways," said Espinal. She said family friends are already planning to take Juwaan to the zoo and, next spring, Shanelle will bring him to Virginia Tech for a weekend.
"It'll make it easier to get him to sports events, the mall, doctors' appointments and even grocery stores," continued Espinal. "For years, I haven't been able to take him grocery shopping because our SUV was too small for him and the wheelchair. Now, he'll be able to do that with me and pick out the food he wants."
"I want to thank everyone in the community who donated their hard-earned money to the GoFundMe fund, and Paisano's for their incredible generosity," she continued. "Together, we raised enough money to buy the van. I also thank Pierre Garçon for coming out here tonight – and getting tickets to Sunday's game was awesome, too."
Awed and grateful to be surrounded by so many caring people, Espinal added, "Juwaan is truly a blessed soul." Seeing the joy on Juwaan's face also meant a great deal to Qreitem.
"It's amazing," he said. "Helping somebody like him is a special feeling. Knowing you impacted somebody's life, money can't buy that. I wouldn't even care if nobody knew about what we did – knowing Juwaan has transportation is enough for me, and I know Pierre feels the same way."