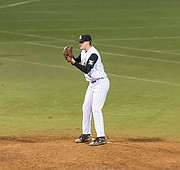 After escaping with a 1-­0 victory over Marshall with temperatures dipping into the low 30s, it would have been understandable for members of the Paul VI baseball team to lose focus is the second game of Saturday night's doubleheader at Waters Field in Vienna.
Instead, pitchers Robert Riddick and Michael Coritz shut down West Potomac, while the Panthers scored double­digit runs.
Riddick and Coritz combined to throw a no-­hitter and Paul VI throttled West Potomac 12­-0 in five innings on March 28, extending the Panthers' win streak to five games.
"As a program, we talk a great deal about not letting the conditions dictate, whether it be poor field conditions, any umpire's call, fans, the opponent we are playing or weather itself," third-­year PVI head coach Jeff Nolan wrote in an email. "... After the first game, we mentioned defending the lull of the game, especially given the temperatures and our team did a great job of fighting the low temperatures with heightened enthusiasm and focus. I was very pleased with how our guys responded to an even colder second game. And, I think they were also motivated by a somewhat pedestrian offensive performance in game one and I'm pleased with the fact they came out with great resolve to address that in game two."
Paul VI's dominance over West Potomac started on the mound with Riddick. The junior right-­hander struck out eight and walked three in four innings.
"Robert is a bit relentless on the mound," Nolan wrote. "From a hitter's perspective, he is tough to deal with as he works the strike zone in and out and up and down. I like the way he is attacking the zone and how he is indifferent to the hitter he's facing. He has been outstanding from his first appearance, a bulldog who competes hard every time out. He throws hard and has a great slider and works at a deliberate pace."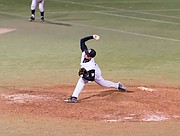 Norton wrote that he had Riddick on a "pretty conservative pitch count" due to it being an early-­season game in frigid temperatures. Coritz, a junior right-­hander who has been the Panthers closer the last two years, came on in relief and preserved the no-­hitter, striking out three in the fifth.
"Michael is a baseball player," Nolan wrote. "He competes hard in everything he does. He cares, he works. He is all about the team and the team's success. As a pitcher, he has no fear and no hesitation in getting after hitters. When he can sniff the finish line, he is real tough for hitters to deal with because his arm has another gear it reaches when the game is on the line. He tends to throw harder and his stuff gets even better when the chips are down."

PVI sophomore Trey Campbell had two hits and an RBI against West Potomac. Senior Matt Herzog had a hit and an RBI.
The Panthers benefited from nine Wolverine errors.
PVI junior right-­hander Kevin Kelly pitched five scoreless innings in the opener against Marshall.
The Statesmen had a chance to take the lead in the top of the seventh inning. With one out and a runner at second, sophomore Casey Lauer ripped a base hit to left field and the Marshall courtesy runner rounded third and headed for home. But PVI left fielder Will Salva scooped up the ball and fired it to the plate, cutting down the potential go­ahead run.
The Panthers loaded the bases in the bottom half and won with a walk­off walk.
Junior shortstop Clayton Baine, junior center fielder Jack Cunningham and junior Devon Adams are also key contributors for the Panthers.
"Our goals as a coaching staff are to seek constant improvement week to week," Norton wrote. "Our players, every year, set the same two goals: to capture the WCAC championship and the state championships."
PVI last won WCAC and state titles in 2012.