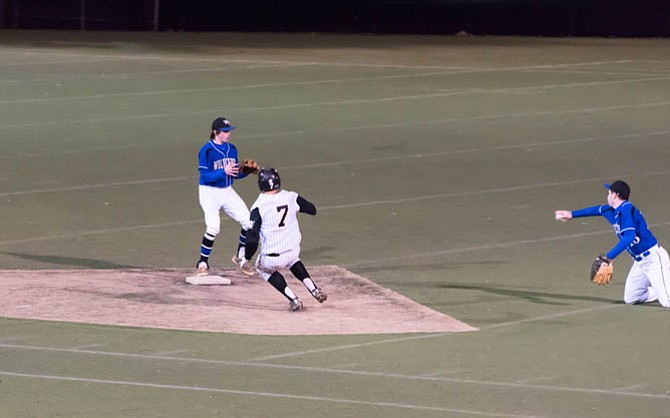 "We're thinking we're going to challenge for the championship again. … We're very optimistic."
— Jim Sullivan, West Potomac baseball coach
The West Potomac baseball team graduated its top two pitchers from last season, and on March 28 the Wolverines were no-hit and committed nine errors against Paul VI during a game played in low-30-degree temperatures.
However, after the frigid 12-0, five-inning loss at Waters Park in Vienna, West Potomac head coach Jim Sullivan and standout junior Jamie Sara spoke of a brighter — and hopefully warmer — future for the Wolverines.
West Potomac returns several key pieces from its run to the 2014 Conference 7 championship game, where the Wolverines lost to West Springfield, 8-5. West Potomac defeated Patriot in the first round of the 6A North region tournament, before losing by one run to perennial power Madison in the quarterfinals.
"We're thinking we're going to challenge for the championship again," Sullivan said. "… I think we'll be a better offensive team than we were last year. I was just looking today: our 1 through 7 guys can be outstanding. … We've just got to get some swings, get some decent weather and see how it goes. We're very optimistic."
One of the key returners is junior pitcher/infielder Jamie Sara, a 2014 first-team all-conference selection who is committed to William & Mary. Sara started slow during his sophomore season, but finished the campaign with a crazy power surge. Sara hit five of his six home runs late in the season, including three in one game against South County and a two-run homer in the conference championship game.
This year, opponents figure to be prepared for Sara's power.
"We keep telling him, don't count on seeing very many inside fastballs, and he hasn't," Sullivan said. "Right now, he's struggling, but he's working hard. He's not somebody who's going to get [mad] and throw things. He's working hard and I expect he's going to come around and he'll probably be our best player."
Sara saw some time on the mound last season, starting the conference championship game, but was behind West Potomac seniors Billy Lescher and Michael Barnes. Sara now takes over the role of staff ace.
"Pitching is going to be probably the No. 1 part of my game this year," Sara said. "Over the offseason, I got a lot of looks from colleges for just pitching, so that's going to be the biggest part of my game this year."
Junior right-hander Brandon Floyd is West Potomac's No. 2 pitcher. The Edison transfer also plays third base for the Wolverines.
The team is still trying to determine the No. 3 starter, though Sullivan was impressed by Chris Day's effort against Paul VI.
Sophomore shortstop/relief pitcher Luke Belanger is another key returner for the Wolverines.
"Luke Belanger is as good a defensive player as we've ever had at West Potomac," Sullivan said. "… And he's a great hitter. He's our leadoff batter. … Great ball player."
Senior catcher Tom Nicholson, senior outfielder Rocky Iboleon and junior designated hitter Pavel Strain are also expected to be key contributors.
West Potomac bounced back from its loss to Paul VI with a 6-5 win over Marshall on March 30, improving the Wolverines' record to 3-2.
West Potomac will host T.C. Williams at 6:30 p.m. on Tuesday, April 7.
"I think we'll be right there when the season ends," Sullivan said. "I think we'll be right up at the top."