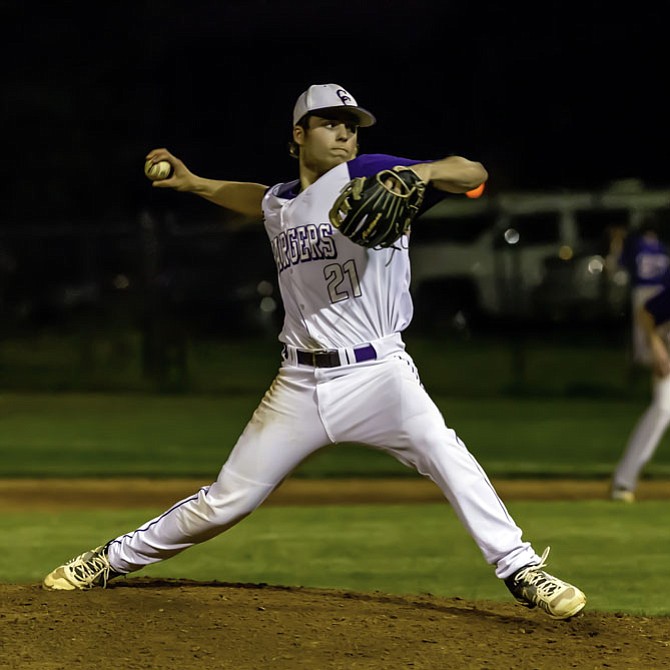 Chantilly pitcher Jared DiCesare might have saved the Chargers' season with two fingers and a thumb.
With the bases loaded and two outs in the sixth inning of a tied game, West Potomac first baseman Matt Gill hit a DiCesare offering back up the middle. DiCesare, a senior right-hander, reached out and snagged the line drive with his bare hand, catching it with his thumb, pointer finger and middle finger for the third out of the inning.
"That play, it's just something you dream about," said DiCesare, the 6A North region Player of the Year. "You dream about those types of plays you see in [Major League Baseball]. It was something I didn't even believe myself. I kind of like looked at it, I was like, 'Wow, I can't believe I caught that.'"
DiCesare's highlight-reel catch was symbolic of his performance as a whole: a tremendous effort with a touch of good fortune.
DiCesare, a George Mason signee, tossed a complete game, left fielder Garrett Snedeker drove in the winning run with a single and the Chantilly baseball team defeated West Potomac 2-1 in nine innings in the opening round of the 6A North region tournament on May 25 at Chantilly High School. Two days later, the Chargers beat McLean 6-0 in the region quarterfinals.
Chantilly will host Patriot in the semifinals at 7 p.m. tonight.
DiCesare tossed a complete game against West Potomac, throwing 133 pitches in nine innings ­­­ the maximum number of innings the VHSL allows a pitcher to throw in one day. DiCesare said it was his highest pitch count in one outing at any level.
DiCesare allowed one earned run and six hits while walking two (one intentionally) and striking out 12. He threw 96 of 133 pitches for strikes and hurled a first-pitch strike to 26 of the 33 batters he faced.
Even when he ran into trouble, DiCesare was able to make a memorable play to get himself out of a jam.
"[West Potomac] did a good job early of putting the ball in play," Chantilly head coach Kevin Ford said. "But, Jared, that's who he is. He toughens up when we need it. He makes incredible plays ­­­ catching the ball with his bare hand. ... I don't think anything he really does shocks me. He's that kind of guy. That's two runs. They had ... bases loaded and that's probably the ball game right there because that's a base hit."
While DiCesare earned the win with a stellar performance, he was fortunate in that his counterpart on the mound, arguably, was even better.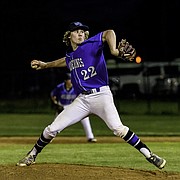 West Potomac senior Jamie Sara, who will play for William & Mary, finished his high school career with a memorable effort. On the mound, the 6-foot-4 right-hander received a no decision after allowing two hits ­­­ one of the infield variety ­­­ and one unearned run in 7 1/3 innings. He walked two, struck out 10 and threw 106 pitches, including 71 strikes. He threw a first-pitch strike to 15 of 26 batters.
"[DiCesare is] a great competitor," Sara said. "I had a ton of fun pitching tonight. It's going to be [one of] my best memories from high school baseball."
In the batter's box, Sara, a first-team all-region selection as an outfielder, went 2-for-3 with a walk and a pair of doubles. He led off the top of the fourth inning with a double and, three batters later, designated hitter Daniel Jimenez gave West Potomac a 1-0 lead with a two-out RBI single.
In the bottom of the fourth, Chantilly countered by plating an unearned run --- the only run the Chargers would score against Sara. Chantilly right fielder Jared Enders led off the frame with an infield popup that a West Potomac player dropped for an error. After a flyout, a groundout and an infield single, Enders scored on a wild pitch.
Sara then struck out eight of the next 11 batters he faced and the game went to extra innings tied at 1.
"He's really big and he throws hard," Ford said about Sara. "Tonight, he located."
West Potomac head coach Jim Sullivan took Sara out after seven innings and 102 pitches. However, a mistake would lead to one more opportunity on the mound for No. 22.
Chantilly loaded the bases with two outs in the bottom of the eighth inning against West Potomac reliever Gus Leyden when the Wolverine coaching staff made its second mound visit of the inning. By rule, in extra innings, if a coach makes multiple mound visits in the same frame, the pitcher must come out of the game. Sullivan said he made a mistake and was forced to go with the team's only other pitcher who was warm at the time ­­­ Sara.
Despite entering a two-out, bases-loaded pressure cooker of a situation, Sara needed just four pitches to strike out Chantilly clean-up hitter Matt Padeway and keep the Wolverines' season alive.
"First thing I asked coach, I said, 'Is this allowed?'" Sara said. "I knew I struck out the kid a couple times before and I'm going after him ­­­ my best against his best. ... I knew before I was going in, all right, I'm going to strike this guy out. Bases loaded, bottom of the eighth, biggest game of my high school career, he's getting my best."
Padeway would be the last batter Sara would face. Senior right-hander Brandon Floyd, West Potomac's No. 2 starter, pitched the bottom of the ninth. With two on and two out, Chantilly left fielder Snedeker delivered a walk­off RBI single.
After the game, Sara said his arm felt "fine" and he "could go out there and toss another 30" pitches. Sullivan, however, said he didn't want to jeopardize Sara's career by having him continue to pitch.
"He's been pitching great," Sullivan said. "I wish we could go another game with him. I'd loved to have gotten through this one ­­­ we would have had to win [in the quarterfinals] ­­­ but then we could have used him again next week. He's pitching lights out right now. He's pitching great."
How did Sullivan feel about the Wolverines battling against a team that reached the state championship game each of the last two years?
"We should have [beaten] them," he said. "We gave them one unearned run; otherwise we would have [beaten] them 1-0."
West Potomac finished the season with an 11-12 record. The Wolverines were competitive most nights, but finished 0-8 in one-run games.
"First thing that I thought was, 'How in the hell do you lose eight one-run ball games?'" Sullivan said.
While the loss was disappointing, Sara did what he could to keep West Potomac's season alive.
"I'm feeling pretty great," Sara said. "Good way to go out, but we should have [come] out with that win."