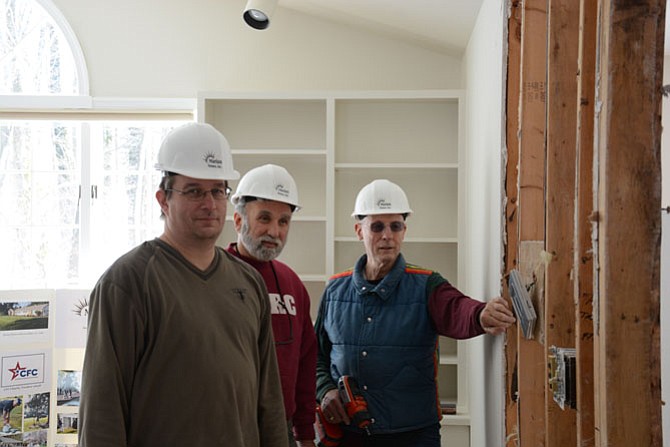 When the new residents of Marian Homes' latest remodeling project move in to the Gresham Street house in north Springfield, Fairfax resident and Marian volunteer John Germain hopes they feel at home.
The retired Marine engineer has been helping supervise the remodel of the more than 60-year old structure, retrofitting it for the specific needs of five people with intellectual and or physical disabilities. Some of the most noticeable changes are doorways that have been widened to 42 inches to accommodate wheelchairs and a wide-open entryway leading to a main dining room bathed in sunlight from numerous windows.
"When they come in, this will help them feel welcome," said Germain, "that this is a home, not an institution." The remodel began Feb. 25 and the team expects residents will be able to move in by July.
More than re-painting, Marian Homes is converting it from three bedrooms to five, adding a walkout entry, putting in all new flooring, super-sizing the bathroom with a hoist mechanism and redoing the kitchen.
This is the third private residence Marian Homes has bought and redesigned. Its first is a home for five women in the Brecon Ridge subdivision of Fairfax, dedicated in 1998. The second, a home for five men, is a house in the Fairfax subdivision of Greenbriar, purchased in 2010. All 10 residents were formerly living at the Northern Virginia Training Center on Braddock Road.
The all-volunteer, non-profit organization was started by Knights of Columbus St. Mary of Sorrows Council 8600. They purchase and maintain homes for people with disabilities; Chimes of Virginia takes referrals from Fairfax County to select individuals for the homes and independently manages the round-the-clock care for the residents.
Chimes of Virginia is part of the larger, Baltimore-based nonprofit corporation Chimes Foundation. Before Marian House purchased its first group home, the Fairfax Community Services Board assigned Chimes of Virginia to provide services once the house was completed.
People with intellectual or physical disabilities were once centralized in large institutions around the country, where it was believed more robust infrastructure and staffing could better meet the diverse health needs. The Northern Virginia Training Center, opened in 1973, is one example.
But over the last several decades, states have been closing their larger institutions in favor of finding smaller housing and service alternatives that are more integrated into communities. The Northern Virginia center, scheduled to close in March 2016, has been discharging residents and currently has 74 remaining.
"This isn't anything new, in terms of federal standards," said Chimes Chief Operating Officer Nancy Eisele. "We just want to make sure we do it right in Fairfax County. We look at it as permanent housing for people, we want this to be their home."
To fund the first two residences it remodeled, Marian Homes has depended on rental payments from Chimes of Virginia, voluntary donations and grants from the Knights of Columbus Council and St. Mary of Sorrows Parish. The state-level Knights of Columbus organization KOVAR, dedicated to helping people with intellectual disabilities, has also offered Marian Homes loans and grants.
For the Springfield house, Marian Homes received financial assistance from Fairfax County's Department of Housing and Community Development.
In September 2014, the county issued a Request for Proposals to take advantage of $1.8 million in federal funding for acquiring and rehabilitating affordable housing. The Fairfax County Housing Blueprint prioritized expanding housing options for the people with disabilities as well as homeless people.
In December, Marian Homes, along with the non-profit organizations Community Havens in Chantilly, Cornerstones Housing Corporation in Reston and Good Shepherd Housing and Family Services in the Mount Vernon area of Alexandria, was awarded funding in the form of deferred loans from the Fairfax County Redevelopment and Housing Authority.
"This funding not only ensures persons with disabilities, the homeless and other people with special needs have a place to call home in Fairfax County," Kurt Creager, director of Fairfax County Department of Housing and Community Development, said in a statement. "It also supports efforts to provide a wide variety of affordable housing types and sizes to meet the diversity of needs in our community."
The $510,000 mortgage Marian Homes received from the Redevelopment and Housing Authority helped cover the cost of the Springfield house, while the organization says it is costing $103,000 to remodel it. Marian Homes president Bill Crowder called it "a very workable model, from the county standpoint and our standpoint."
Crowder said Marian Homes is beginning to reach out to local corporations for assistance as well. "This is a community effort," he said, "not just one organization. This is something we got underway but there's more than enough space for you to get in and help."
To find out more about Marian Homes, visit www.marianhomes.org.