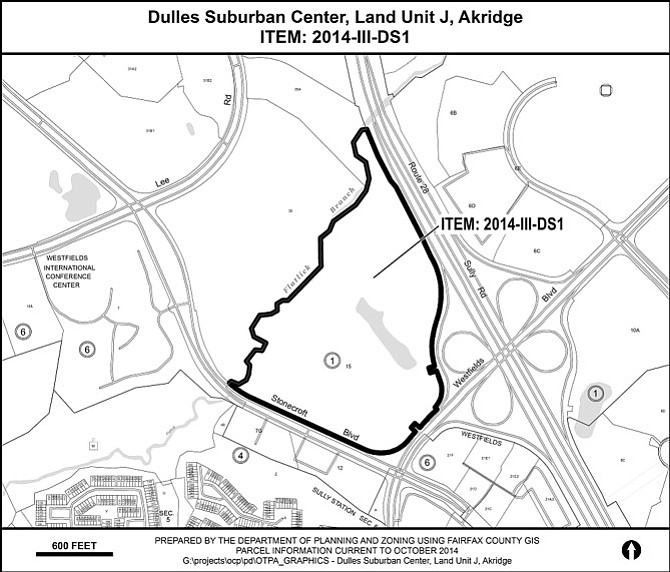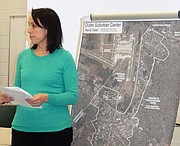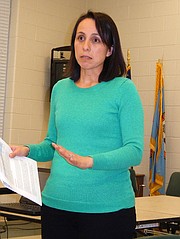 Across Stonecroft Boulevard from the Sully District Governmental Center in Chantilly are 50 acres of undeveloped, vacant land. And an amendment to Fairfax County's Comprehensive Plan for this site is now being reviewed.
The property's owned by Akridge, which hopes to build upscale townhouses and apartments there. But since the plan currently recommends office, hotel and industrial uses there, it would have to be amended to add high-density residential uses, too, before any homes could be constructed.
So Clara Johnson, with the Planning Division of the county's Department of Planning and Zoning, explained the details during the March 17 meeting of the West Fairfax County Citizens Assn. (WFCCA) Land-Use Committee. And a discussion of the pros and cons followed.
"Transit isn't programmed for this area, and there's no mechanism to transfer density from one area to another," she said. "A change in use to residential would reduce peak traffic congestion. But it would generate new students to Cub Run Elementary, Stone Middle and Westfield High. We estimate 78 elementary students; 21, middle school; and 39, high school."
Those numbers attracted At-Large Planning Commissioner Jim Hart's attention. "What's starting to concern me is that we need a 35-acre site for a high school," he said. And in the county's CIP (Capital Improvement Program), the anticipated cost for a new high school is $120 million.
He further noted that the Trinity Centre in Centreville filed an application to switch from office use to apartments, and Timber Ridge (near Herndon) wants to change from mixed-use to apartments and townhouses.
"If we're looking at them all, at some point, there are impacts on schools, parks and libraries that we haven't anticipated," said Hart. "The cumulative effect may be much greater than we'd intended with office uses. So is [county] staff looking at the big picture?"
"Yes," replied Johnson. "We met about it with school staff and identified the [possible school] sites for them. And I've asked for follow-up information on school capacity." But Hart stressed that, until a site for a high school is found, neither the county or school system will know exactly the area it'll serve.
Sully District Planning Commissioner John Litzenberger asked about the impact if senior-citizen housing, instead of townhomes, were built on the Akridge site. Johnson said it wouldn't generate as many students. And Litzenberger added that studies show seniors avoid rush-hour traffic, so that would also be a benefit.
"There's a 40-percent shortage of senior housing here," he said. "So we should consider the best use of this [land], considering all the parameters of schools, traffic, etc."
Johnson said the county also examined the amenities nearby for high-quality homes. "This property is separated from its surrounding office uses by Route 28 and Westfields and Stonecroft boulevards," she said. "So staff thinks there's an opportunity for a residential neighborhood to create its own identity — and that there are enough services and shopping areas nearby for it. And office use in this area could aggravate the already congested Westfields/Stonecroft intersection."
WFCCA's Carol Hawn asked whether the county is considering making the whole, Akridge site residential. But Johnson said it's just examining the option to add it as another approved use there.
"Some locally serving, support retail could be part of the mix, but it would be predominantly residential," she said. "It would still have the office option. We need to see if there are advantages to having homes there and if it's in the best interests of the Dulles Suburban Center [in which the land is located]."
"If, because of the sinking office market, everybody's going to want to do other things, we need to look at everything holistically," advised Hart."
And Litzenberger said the county's "already had inquiries about the Long & Foster parcel along Route 28 [in Centreville], and two parcels along Walney Road. But is this the best thing for Fairfax County?"
"We took great pains not to make this precedent-setting, but just about this site only," answered Johnson.
Still, said WFCCA's Mark McConn, "It worries me that, if you take large land groups out of the Route 28 Tax District, it would have a big impact on the district and the community as a whole. When the district was created in 1988, we wanted to reserve that corridor for commercial use."
Johnson said she believes the developer would compensate the county for future, lost revenue. But Litzenberger said that might be a question for Planning Commission consideration.
"We've known for decades that the roads can't support the maximum development potential for the Dulles Suburban Center," said Johnson. "So we need to encourage uses that produce less [vehicle] trips than office. The county strategy for years has been to balance employment areas with residential, and this plan is modest in terms of intensity."
The proposed Plan amendment is slated for a public hearing before the county Planning Commission next Wednesday, April 15, at 8:15 p.m. But Litzenberger said the hearing could be held, as scheduled, but decision deferred until after the WFCCA's next meeting, which is April 21.
That way, the WFCCA will have time to receive and read the final staff report on the matter and make its own recommendation to the Planning Commission before it renders its decision. The issue will then go to the county Board of Supervisors for a public hearing on Tuesday, June 2, at 4 p.m.