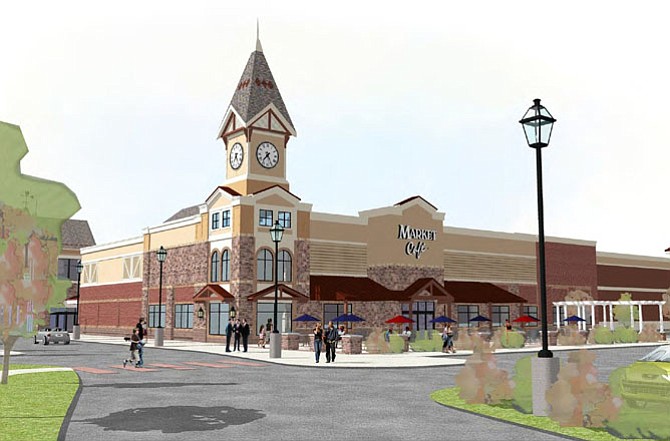 Centreville — The Wegmans grocery store in Fair Oaks has proved to be a hit with local residents. And now plans are afoot to bring a Wegmans to Chantilly, too.
It would go inside the Newbrook Drive loop road near Westfields Boulevard and would be part of a commercial complex including shops and a restaurant. First, though, Fairfax County must approve a Comprehensive Plan amendment for that 21-acre site.
"It was originally zoned I-3 [Industrial] as part of the Westfields Corporate Center," said land-use planner Susan Yantis, representing the developer. "Then in 2007, it was rezoned to Planned Development District to permit mixed-use development with hotels and low-rise offices."
Fast forward to 2015 and, on July 23, the county Planning Commission unanimously approved a new Plan amendment to more accurately reflect current economic conditions — in which large amounts of space previously approved for offices is going unused. This amendment replaces the approved 338,400 square feet of hotel, office and retail uses with 183,000 square feet of retail.
It goes next to the county Board of Supervisors on Sept. 22. Meanwhile, Regency Centers, a publicly traded REIT (real-estate investment trust), has a contract to purchase the 21 acres in hopes of building the Wegmans there.
"Regency has developed more than 200 shopping centers nationwide since 2000," said Devin Corini, vice president, investments, with Regency. "We care about the details and pay a lot of attention to the architecture and landscaping. We developed three Wegmans to date and own the Centre Ridge Marketplace shopping center."
"Westfields was great for Class A offices, but I felt it lacked a mix of uses such as retail," he continued. "Wegmans wants to serve the [Centreville-Chantilly] community and also help relieve the [Fair Oaks] store."
Yantis said the new grocery store would be 140,000 square feet and have the same amenities inside as the Fair Oaks Wegmans. Comprising the rest of the retail space on the same site would be 32,500 square feet of shops plus a 10,500-square-foot, full-service, sit-down restaurant.
"The idea is to provide an active environment along Westfields Boulevard," said Yantis. "There'll be a plaza area with seating and benches, walking trails and an exercise park near the Flatlick Stream Valley for the [nearby] office workers. We'll also provide new sidewalks and crosswalks. We're really excited about the opportunity to do this."
Kevin Fellin, with Wells & Associates transportation consultants, called Wegmans "advantageous" for this site. "Wegmans was a regional draw, but now is more community-serving," he said. "And it's already in a commercial area with proffered infrastructure improvements."
These include: The construction of a raised median on eastbound Westfields Boulevard, separating the eastbound through lanes and the eastbound dual lefts; an additional westbound travel lane on Westfields Boulevard between Newbrook and Park Meadow drives; completion of the Newbrook Drive loop road; and pedestrian improvements. The goal is to improve traffic flow along Westfields Boulevard and at Westfields and Route 28, and to also better serve the site.
However, if the Wegmans is built there, county staff believes the following work will be necessary to mitigate the traffic:
Signal re-timings, optimization and coordination, plus cycle-length changes.

Re-striping the southbound approach at the Westfields Boulevard/Park Meadow Drive intersection for additional turn movements.

Adding another northbound, left-turn lane on Park Meadow at the Westfields intersection. Doing so would create triple lefts and require modifications to the receiving lanes on westbound Westfields so more drivers could get through the intersection faster.
Corini said construction of the Wegmans would take 15 months, in addition to the time it takes for the application to go through the county approval process. So he doesn't expect it to open until 2017-18. And unlike the Fair Oaks store, he said this one will not have a parking garage because "we feel there's ample [surface] parking" on this site.
At a recent meeting of the West Fairfax County Citizens Assn. (WFCCA) Land-Use Committee, At-Large Planning Commissioner Jim Hart told the applicant, "Transportation will be your biggest challenge. The intersection of Westfields and Stonecroft boulevards is already [operating at] level F, and Wegmans will bring in more vehicles to get there."
But, replied Fellin, "We're not adding traffic, but attracting traffic already on the road network. And there'll be two entrances and exits to the site, off Westfields Boulevard."
Hart wondered if the new store would have a negative effect on the nearby Giant Foods store and other nearby shopping centers. But Corini said, "This type of retail and retailer will inject life back into Sully Station. It'll attract a different level of best-in-class, quality retail and restaurant with outdoor seating, plus plaza and amenity areas." He said people could also take food purchased at Wegmans and sit and eat it outside the Wegmans café.
At a follow-up meeting, WFCCA's Mark McConn also worried about the traffic impact on residents. "Our communities won't be able to get out of their developments," he said. "This store will be a major hub of traffic. It's a great company, and we don't want them land-locked."
WFCCA's Steve Chulick asked how Wegmans traffic would compare with office traffic. "We're studying all the traffic during the peak morning and evening [rush]," answered Kristin Calkins, a transportation planner with the county's Department of Planning and Zoning. "And the proffered improvements would have to be built before the Wegmans goes in."
"A lot of people are looking forward to this Wegmans," said WFCCA's Chris Terpak-Malm. "I think it's a great place for it."
Still, said Hart, "I'm concerned about three lanes turning a half block before the exit, and some of the cars will be in the wrong lane. So we should also deal with what happens to these cars once they get onto Westfields Boulevard and are merging to take the exit."
Furthermore, he said, "There's not enough time to shift over into the right lane and there's going to be accidents. And I don't know that re-striping and lane changes are the answer. There's going to be a lot of traffic going into it where the traffic doesn't work now."
"We'd have to have very good signage," replied Calkins.
Fellin said the originally approved uses for that site would generate more trips than the Wegmans. And he noted that the Westfields/Stonecroft intersection would be improved to service-level E.
"A lot of the triple lefts would be taken by office people going home," he added. "And from eastbound Westfields to Route 28, there'll be more space for car stacking and dual lefts. And a lot of the traffic will divert and go straight, instead of taking a triple left. And the loop road will be finished when the Wegmans goes in."
Attorney Frank McDermott, representing the developer, said more vehicles will come there in the evening peak than now – and people already on the road "may come to the store on their way home. But people won't purposely shop there in the evening peak."
"The concept is to create a synergy and a very nice amenity for Westfields," he continued. "We're a mixed-use world today; it'll be an important component of Westfields."