Three men are competing in the Republican primary to run in November for the Sully District supervisor seat being vacated by incumbent Michael Frey. They are John Guevara, Brian Schoeneman and John Litzenberger.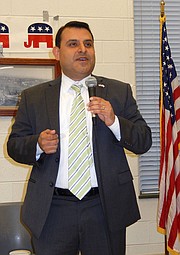 John Guevara
John Guevara has lived in Sully 15 years and in the area for 21 years. He has a wife and two sons and was a Signal Corps officer in the Army for 15 years. He's coached CYA sports, taught Sunday school, is a former homeowners association president and is the vice president on the WFCM (Western Fairfax Christian Ministries) board of directors. He's also an IT manager, a consultant who manages large projects for the federal government and commercial businesses.
"Since I've lived here, real-estate taxes have gone up 140 percent and the inflation rate has increased 47 percent," said Guevara. "Only 37 percent of Hispanics and 20 percent of black students in FCPS are ready for college. There's a $2.6 billion school budget, but the results don't match up."
"I want an effective and sustainable leadership for Sully," he continued. "And I am that fresh vision and new leadership."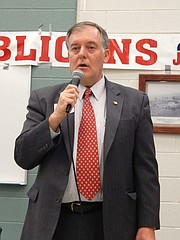 John Litzenberger
John Litzenberger is the Sully District planning commissioner and has been on the county Planning Commission for eight years. He also served four years as Sully District housing commissioner. He and his wife have three children and have lived in Centreville 35 years. He's coached CYA and SYA sports and also coached at Centreville and Westfield high schools. He was an Air Force pilot for more than 30 years and founded an aviation-services company.
"I'm running for supervisor to defend the quality of life in the Sully District," said Litzenberger. "If elected, I'd focus on improving the economy, increasing revenues and growing the tax base."
"I helped coordinate $7 million worth of athletic fields and $13 million in road improvements, without tax dollars," he said. "I know how to get community amenities from developers — and there's a three-to-four-year learning curve to learn all that. And I'm retired military, so I'd be a full-time supervisor."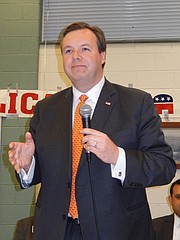 Brian Schoeneman
He's lived in the county more than 10 years, and he and his wife have one son. He's a small-business owner and attorney, and he's been on the county's Economic Advisory Commission since 2011.
"I've learned that, no matter what our differences are, we all want good schools, roads and transit; a government that's responsive and listens; and representatives who'll step up and fight for people," said Schoeneman. "My vision is informed by my faith and shared Republican ideals."
"We need an environment where businesses can flourish without red tape and we can restore trust in government," he continued. "And we need elected officials who are open, honest and transparent. If elected, I'll work hard every day to make sure Sully's the best place to live, work and raise a family in America."