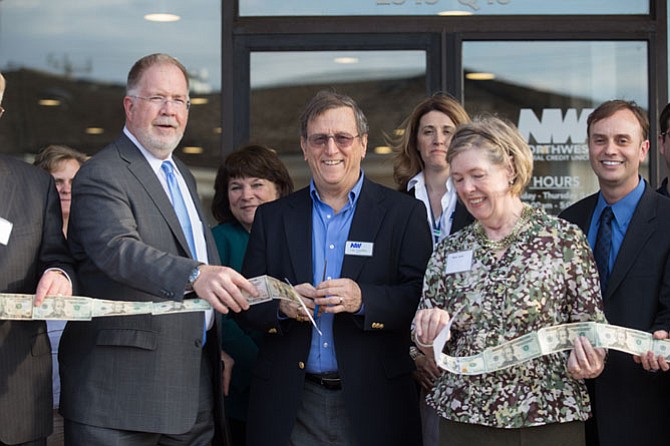 To celebrate the official opening of its newest Herndon branch at 2545 Centreville Road in Village Center, Northwest Federal Credit Union held a ribbon-cutting ceremony March 26.
Several local officials attended the ceremony, including Dave Kirby and the Grace Han Wolf from the Herndon Town Council; Fairfax County Supervisor John Foust; Del. Kenneth Plum (D-36); and Eileen Curtis, president of the Dulles Regional Chamber of Commerce. Three members of the Northwest Federal Credit Union Board of Directors were also on hand: Leo Cardillo, Vice Chairman; Dawn Ellenberger, Secretary; and David Eldred, Director.
In remarks during the celebration, president/CEO Chris McDonald said, "Northwest Federal has been around for over 67 years, and we're pleased to have opened our second Herndon location, equipped with a more interactive feel for our members and services for local business owners."
To mark the occasion, Curtis, McDonald and Leo Cardillo, vice chairman, Board of Directors cut a special ribbon made of money created in support of Credit Union Miracle Day. Along with the cash ribbon, McDonald also announced an annual donation to Children's Miracle Day, saying, "One of the many ways we serve our communities is through our Northwest Federal Credit Union Foundation. Its mission is to strengthen our community through our scholarship, mentoring and youth outreach programs."
Linda Rogus, executive director of the Foundation, presented a check representing this donation to former Northwest Federal President/CEO Juri Valdov and Sarah Turner, Director of Credit Union Miracle Day. They are members of the Board of Children's Miracle Network and accepted both the cash ribbon and check on its behalf.
All donations Northwest Federal makes to the charity are directed to Children's National Medical Center in Washington, D.C.
Northwest Federal has branches in Chantilly, Gainesville, Herndon, Leesburg, Manassas and Vienna, and also offers financial services via online and mobile banking. Learn more at www.nwfcu.org.