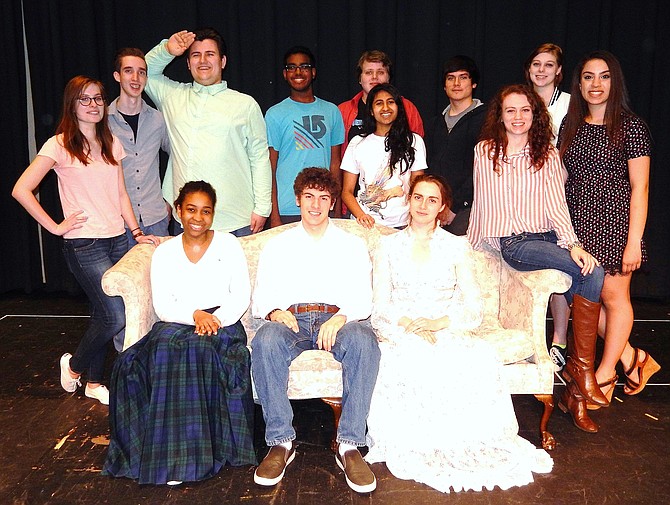 "This play came out of the Golden Age of American comedy and was extremely successful on Broadway."
— Mike Hudson, Director
A comedy about an unlikely subject, "Arsenic and Old Lace" takes place in a house in Brooklyn in the 1930s. Two, sweet, elderly ladies, the Brewster sisters, live there and are well-liked by everyone. But they have a big secret ...
"They have 12 old gentlemen buried in their cellar," said senior Miranda Newman, who plays Martha Brewster. "When their nephew Mortimer finds out, he tries to resolve the matter without his aunts ending up in jail."
That's the premise behind Centreville High's upcoming play. Show times are Friday, May 1, at 7:30 p.m.; Saturday, May 2, at 3 and 7:30 p.m.; and Sunday, May 3, at 3 p.m. Tickets are $10 at the door.
"This is one of my favorite shows — an absolutely fabulous comedy," said Director Mike Hudson. "And one of the greatest things I've experienced so far with this play was explaining what it's about; my actors were surprised that grandmothers would do this."
But, he continued, "This is a comedy about the foolishness of the situation. The sisters took pity on lonely, old men without families and put them out of their misery by poisoning them."
The cast and crew of 21 has been rehearsing since March for this three-act play, and Hudson said the set will be special, as well. "We're building a house onstage with a two-story staircase," he said. "And since it's supposed to be an antique house, I had authentic wallpaper stencils custom-made for the rooms. We're playing this show as close to period as possible with the mannerisms, costumes, scenery and furniture."
Newman describes her character as "bubbly, happy and carefree" and says Martha and her sister are a team. "Martha makes all the meals and is the more serious of the two," she said.
"I love playing her because she's so cheerful and is just trying to do her own thing," said Newman. "And she's fun to play because she's so innocent and is so much older than me." As for the audience, she said people will enjoy this show because of its "fast-paced dialogue and witty, dry humor."
Portraying the sister, Abby Brewster, is junior Zainab Barry. "She's kind of spacey and doesn't realize how off her morals are," said Barry. "She's a really sweet woman who cares about others, but doesn't always know the difference between right and wrong."
Still, said Barry, "I love her so much. She's such a funny character; and a lot of the time, she doesn't realize the things she says are so humorous. And I've always wanted to play an older character, adjusting the way I walk and talk to illustrate that person's mannerisms."
Barry says the audience will like the Brewsters' nephew, Teddy, as well as the idea of how a story about "two, sweet grandmas who kill people — such a serious thing — can be made into a comedy."
Senior Joshua Ewalt plays another nephew, Mortimer, a New York drama critic in his mid-30s. "He's assertive and knows what he wants, is an aspiring writer and is a fan of Thoreau," said Ewalt. "He's also a regular, normal person — which is where the comedy comes from — because he's the straight man the other characters play off of."
"He's tons of fun to play," said Ewalt. "I get to do lots of yelling and running around. I run up and down stairs, jump on a bench and do physical comedy. It's a really wacky role, as Mortimer tries to juggle a dozen, different things at once."
He said the audience will enjoy watching "how the characters react to and interact with each other. They'll also like seeing how Mortimer's trying to keep everyone else normal and calm but, in the process, starts acting crazy, himself."
Playing Teddy is junior CJ Robinson, who's also designing the makeup to age the young actresses into old women. "Teddy lives with his aunts and believes in his heart that he's President Theodore Roosevelt," said Robinson. "But he recognizes that he thinks he's met people and experienced events that haven't yet happened to Roosevelt, who's really the president when the play takes place. Teddy really embraces Roosevelt's more eccentric characteristics, so he's more of a caricature than an actual person."
Robinson called it a "really fun part to play" because he gets to be so outrageously hilarious and over-the-top. "Teddy's basically a running punch line throughout the show, and I love it," he said. "I even get to blow a bugle before making announcements, and I yell 'Charge' before going up stairs. Teddy's also building the Panama Canal in the cellar."
He said the show has lots of subtle humor, as well. "There's a lot of comedy arising from miscommunications and great jokes that people will like," said Robinson. "I think this comedy will be something everyone will enjoy."
Agreeing with him, Director Hudson said, "It's a funny, decent show that'll appeal to any age audience. It's utterly unbelievable in its content, but the audience will want to believe it happened because it's so fantastic."
"This play came out of the Golden Age of American comedy and was extremely successful on Broadway," he continued. "And it's one of the most-produced shows for any theater group, high school or otherwise, in history."