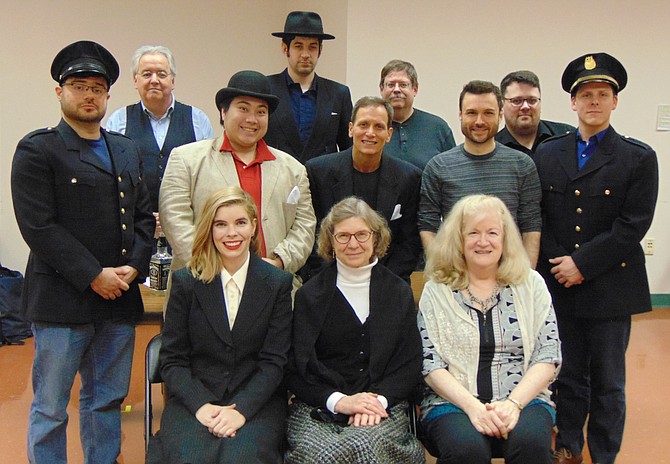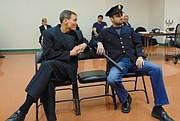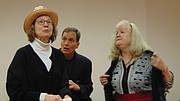 Murder, mayhem and madcap lunacy abound when The Arlington Players (TAP) present "Arsenic and Old Lace" from Feb. 1-16 at the Thomas Jefferson Community Theatre in Arlington. Mortimer Brewster is a drama critic whose two spinster aunts have a unique hobby — they poison lonely old men with elderberry wine laced with arsenic. One of his brothers thinks he's Teddy Roosevelt, and another murderous brother is on the run from the law. All are getting in the way of Mortimer's plans to marry the woman he loves. Playwright Joseph Kesselring's masterpiece became an instant classic when the film version was released in 1944, directed by Frank Capra and starring Cary Grant.
According to Director Liz Mykietyn of Ashburn: "It's when family secrets come out and you didn't know what was happening in the cellar. There're these sweet aunts that you would never think have been murdering people. The irony is they think they're being kind but they're not. Thus, Mortimer comes in and tries to resolve everything in the end."
She added: "Because the movie is so popular today because Cary Grant was in it — he's so handsome and debonair — you have that stereotype of where we're going to find Cary Grant. You're not going to. You have to take the script, have auditions and start from scratch and see what chemistry you can build from those actors. I feel that's true in all these plays that are done again and again. You're going to start from scratch but you want to maintain the integrity, whether it's comedy, drama or musical, and that's the challenge for the director."
Richard Isaacs of Old Town Alexandria plays the role of Mortimer Brewster, a critical theater critic. "He's in this family and he's always wondered about them because they are so odd. The original Brewster was on the Mayflower and scalped Indians. The grandfather tried patent medicine on dead people so he wouldn't kill them. His one brother tried to kill his girlfriend and the other brother thinks he's President Roosevelt. So, Mortimer is always wondering when am I going to go crazy," he said.
He said he thought he was too old to play Mortimer, but was pleasantly surprised because he had wanted to play him for years but he thought his time had passed.
He added about the play: "It's a lot of laughter. I want (audiences) to leave feeling so good because it's such a fun play. This isn't one of those message plays — it's really just fun."
Catherine Lyon of Alexandria plays the eldest of the aunts, Martha Brewster. "They live together in the old Brewster home where they are very kind; they're very generous and they poison old lonely gentlemen to help them find peace and relief from their loneliness. They both have two nephews and a very lovely nephew Mortimer who is going to marry a lovely woman named Elaine and they have a troubled nephew whose name is Jonathan," she said.
She added: "I think the challenge is to find her age; she's a little older than I am. I don't want to make her infirm but she's not as spry as I am, so there are physical challenges to creating the character and the other thing is to find justification in my heart for murder because she believes devoutly in the rightness of her cause, and I, Catherine, have some doubts about it. I think it's wrong what she's doing."
As far as audience takeaways, she said: "I hope (audiences) have fun; that they howl. The physical comedy is wonderful. The interaction of the cast is lively. I hope they have fun and enjoy the complete and utter hilarity that ensues from the two sisters in their quest to relieve old men of their loneliness."
Beth Hughes-Brown of Fairfax plays the other aunt, the role of Abby Brewster. "I'm playing an old lady who kills people out of kindness. I'm the Kevorkian of the 1940s set, New Englander, very proper and very kind."
She added: "I'm not really a murderer in real life so I had to dig deep in there. The sweetness of the character was fun to play because it contrasts so much with what she does in her spare time — avocation as it were."
Lora Buckman is the show's producer, and a production staff includes Nicholas Queyrane as set designer, Robbie Snow as costume designer, Ken and Patty Crowley as lighting designers, Rick Dulick as sound designer, and props designer Charlene Sloan.
The Arlington Players' production of "Arsenic and Old Lace" will run from Feb. 1-16 at the Thomas Jefferson Community Theatre, 125 S. Old Glebe Road, Arlington. Friday and Saturday performances begin at 8 p.m.; Sunday matinees begin at 2:30 p.m. Tickets are $25/adults; $15/juniors (18 & under); and seniors & military/$22. Visit www.thearlingtonplayers.org or call 703-549-1063.