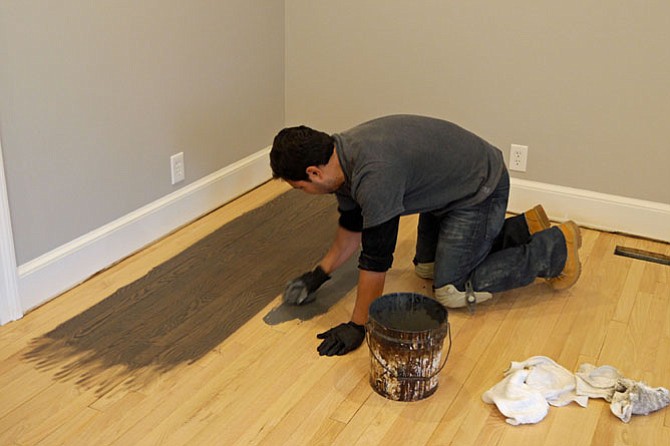 "Gray is a new hot color, the neutral color in today's mainstream. It is the new beige," said to Gayle Yoxtheimer, interior design specialist. She said another trend is less of everything: "You remember the '80s when people had a lot of tassels and bows and large florals?"
She said that removing the psychological baggage creates a simpler, more serene, peaceful atmosphere. This carries over to art objects where fewer is better. Another trend is color blocking: "For instance, a plain sofa would have pillows with accent colors with no pattern. And orange is back, along with shag carpets but frisée, a different shorter version that you can get your vacuum in." Yoxtheimer said that colors come and go but with a different twist. Faux painting is out.
Every client is different according to Yoxtheimer and that is what has kept her consulting for the past 46 years since she got degrees in textile chemistry at the New York School of Design.
"All clients have a different mix and offer a challenge for my creativity," she said. When she enters a new house, ideas come to her but then she looks into the client's eyes. One of her current clients has a contemporary style. She also happens to have gray eyes and wanted "new and fresh ideas."
The couple's townhouse is being done entirely in gray from the walls to the color on the newly-installed hardwood floors and the tiny geometric glass tiles lining the side of the fireplace and matching the backsplash in the kitchen.
Her client, Deborah Coleman in North Arlington calls it "50 shades of gray." Accent colors of orange, turquoise and mustard yellow are used for the pillows and throws. The upstairs shower has a wall of waterfall tiles in shades of gray with a square shower head, a ceiling rain head which is a new age gentle sunflower shower, and contemporary silver drawer handles to replace the brass.
"It's all about the details," Yoxtheimer said.
The economy has definitely affected the business of design consulting because many people cut back on major projects when their resources are fewer, Yoxtheimer said. "But you can do a lot with painting, and removing things can make a big difference, just reduce the load of small items."
Yoxtheimer recalls she had a client who was stuck in the '80s with floral everywhere and she loved hydrangeas, both in her house here and Cape Cod. "But when I talked to her and worked with her we stepped back and removed things and cleaned up. By the time we were finished we were left with her beautiful things and it was sleek and serene."
Yoxtheimer said when she was in school she saw students who could draw a perfect room and put furniture in it. But she said she starts "by reviewing your cherished things, the items you already have or have inherited and look at them with new and fresh ideas." Then she suggests getting rid of the clutter and supplements the items with shopping.
This current client has a closet full of things that she has bought that "we'll sort through later and decide whether to keep them and where to put them. Taste is more than money and I work within the client's budget. I know where to find some good pieces at reasonable prices."
Decorating trends partly follow fashion according to Yoxtheimer. "Look at how people dress today; it's simpler."
Another influence is lifestyle. In this part of the country people get rid of the living room, and houses are built with the great room because of the busy lifestyles. "People want to feed their kids at the kitchen bar quickly before soccer. And with late work schedules, they don't see the kids as much as they'd like so they want them close by instead of the old family room in the basement," she said.