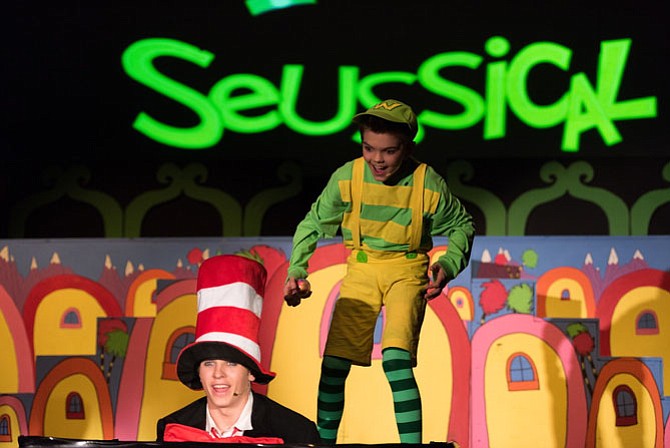 Friday/April 24
Arts Night Out. 7-9 p.m. McLean Community Center, 1234 Ingleside Avenue, McLean. The New Dominion Women's Club will host the annual "Arts Night Out." This is a fun evening to relax and enjoy a special showing at the gallery. There will be hor'deorves, wine and dessert served, along with an opportunity to participate in a silent auction. For more information and to purchase tickets, visit www.ndwc.org.
Sybarite5. 8 p.m. The Barns at Wolf Trap, 1635 Trap Road, Vienna. String quintet blurs boundaries with exacting musicianship and adventurous programming for a transfixing result. $35. 703-255-1900.
Environmental Film: A Fierce Green Fire. 7 - 9 p.m. Walker Nature Center, 11450 Glade Drive, Reston. Adults. In honor of Earth Day, see the first big-picture exploration of the 50 year environmental movement from grassroots efforts to global activism and conservation to climate change. Directed by Academy Award nominee Mark Kitchell and narrated by Robert Redford, Ashley Judd, Van Jones, Isabell Allende and Meryl Streep. Co-sponsored by Friends of Reston. Reservations required by April 21. $5 suggested donation RA members.For more information, email naturecenter@reston.org, or call 703-476-9689 and press 5.
Friday-Saturday/April 24-25
"Book of Days." 7 p.m. Hunter Woods Elementary School, 2401 Colts Neck Road, Reston. Langley High School presents "Book of Days," a murder mystery that raises questions about small town politics and society.
Seussical, the Musical Jr. 7:30 p.m. on April 24. 1:30 & 7:30 p.m. on April 25. Family Worship Center, 7719 Fullerton Road, Springfield. Northern Virginia Players is thrilled to present Seussical, the Musical Jr. All of your favorite Dr. Seuss characters spring to life onstage in a fantastic musical extravaganza from TONY winners Lynn Ahrens and Stephen Flaherty. For more information and ticket purchase, please visit NVPlayers.com. For Group Information or further assistance, please call 703-866-3546.
Friday-Sunday/April 24-26
Reston Friends Big Book Sale. Friday, April 24-- 10 a.m. - 5 p.m.Saturday, April 25-- 10 a.m. - 4 p.m. Sunday, April 26-- 12 noon - 3:30 p.m. (Library itself opens at 1 p.m.) Reston Regional Library, 11925 Bowman Towne Drive Reston. Come and browse thousands upon thousands of great books in great condition. From the latest popular titles and classic favorites to the rare and unexpected fiction and non-fiction. The Reston Friends have something for everyone! Yes, we do restock, for as long as supplies last.
Saturday/April 25
Hawaiian Slack Key Guitar Festival. 7:30 p.m. The Barns at Wolf Trap, 1635 Trap Road, Vienna. Melodic island music with uncommon tunings and finger picking by Hawaii's finest players. $25-27. 703-255-1900.
Taste of Vienna. 11 a.m. to 8 p.m. 400 Center Street South, Vienna Volunteer Fire Department. to http://www.tasteofvienna.org/ . https://www.facebook.com/tasteofvienna?fref=ts. Rain or shine.
Family Fishing Rodeo. Five 30 minute fishing time slots are available: 10 a.m., 10:30 a.m., 11 a.m., 11:30 a.m. and 12 p.m.
Wolftrap Creek in Wildwood Park. 700 Block of Follin Lane SE, Vienna. Participants in the event will be able to fish Wolftrap Creek, which will be stocked with hundreds of trout just for the occasion! Volunteers will be on hand to provide instruction, stream education and fish cleaning demonstrations during the event. The Fishing Rodeo is $5 per fisherman and is open to Town residents only. Tickets are required to participate in this event and will be available at the Vienna Community Center, 120 Cherry Street SE. Limit of six tickets per household. Bring your ID as proof of residency. Participants of the rodeo should bring fishing rod(s), a bucket, plastic bags and ice. Bait will be supplied.

Great Falls Farmers Market Chef Cook Off. 9 a.m. - 1 p.m. 778 Walker Road, Great Falls. The Great Falls Farmers Market, the Great Falls Historical Society and local nonprofit Green Fire are teaming up to provide residents with a taste of locally-harvested venison, as part of a "Field to Table" program. Three local chefs have signed up to use venison in delicious recipes. Tasting of their handiwork will be available free of charge that day, the opening day of the Farmers Market summer season.
"The Very Hungry Caterpillar and Other Eric Carle Favourites." 2 p.m. The Alden, 1234 Ingleside Avenue, McLean. $15/$10 MCC district residents.
Model Classic 2015. 9 a.m. - 4 p.m. Fairfax High School, 3501 Rebel Run, Fairfax. Annual exhibit of scale models. Event will feature: A display of hundreds of museum quality scale models. A modeling contest consisting of over 80 categories. 1st, 2nd, & 3rd place awards in each category. Admission Fees: Adults $8 ( $10 entire family). Junior (Under 18) free. Adult Contestant $10 (includes admission). www.novaipms.org
Mothers, Daughters and Special Friends Tea. 2-4 p.m. Historic Pohick Church, 9301 Richmond Highway, Lorton. Join the Historic Pohick Church Docent Guild for their annual Signature Tea. The theme this year will be "Mothers, Daughters, and Special Friends." New children's tours of the historic church for our young guests will be held before the tea beginning at 1 pm. The special afternoon tea with a Colonial Living History program follows the tours at 2 p.m. Tickets are $25 for adults and $15 for children under 12. Seating is limited. For reservations and more information please contact Helen Parker at 703-497-5927 or email at helenandjeffp@verizon.net .
Spring Fest Fairfax 2015. 10 a.m. - 4 p.m. Workhouse Arts Center, 9518 Workhouse Way, Lorton. Spend the day at the historic Workhouse Arts Center learning about environmental projects and programs, tasting food from around the world, playing games, and riding ponies! Don't miss Billy B! on the main stage. Other activities include a petting zoo, rock climbing walls, bounce houses, face-painting, plant sales, wagon rides, and dozens of exhibits and vendors. Admission is free; some activities require a $5 wristband. For more information, please visit: http://www.springfestfairfax.org/.
Bill Gaither & Gaither Vocal Band. 6 p.m. Patriot Center, 4400 University Drive, Fairfax. Multi-Grammy Award-winner Bill Gaither will host a spectacular evening of music, laughter and encouragement featuring the talent of the prestigious Gaither Vocal Band and several talented musical guests. Tickets are also available in person at the Patriot Center Box Office, as well as all Ticketmaster outlets. Group rates are also available by calling 703-993-3000.
Community Wellness Fair. 10 a.m. - 3 p.m. 9316 Old Keene Mill Road, Burke. Body composition measurements – find out how old your body really is. Nutritional consultations; exercise demonstrations.
Saturday-Sunday/April 25 - 26
The Emperor's New Clothes. 1 p.m. Workhouse Arts Center, 9518 Workhouse Way, Lorton. Presented by Pandemonium Theatrical Productions. Guess who's got a passion for fashion? In this musical adaptation of the classic tale, Emperor Augustus has been led astray of his once kind-hearted nature by a villainous duo who are eager to take over the throne. In his newest quest to be the best-dressed man in town, Augustus seeks the help of two mysterious tailors who promise a magical Suit of Honor that is sure to amaze! His very wise daughter, Emma, has become suspicious of everyone but will she be able to unravel the puzzling plot before it is too late? Join the adventure in an afternoon of mystery, music and lots of laughter. Running time approximately 75 minutes, with one intermission. Appropriate for all ages.
Performance of Act I Cinderella. Classical Ballet Theatre Herndon Studios, 320 Victory Drive, Herndon. Don't miss Cinderella and her Fairy Godmother as they teach the stepmother and stepsisters, "Haughty" and "Spiteful," that nice girls do finish first! For more information visit http://www.cbtnva.org/cinderella.
Sunday/April 26
"Walk On the Hill." 2-5 p.m. Free. Windover Heights. Experience a peaceful time as part of Vienna's Quasquicentennial (125th) celebration by touring the historic district and meandering through any yard with a "Yard Open" sign. Programs throughout the event, including native habitat at Salsbury Spring and concerts by The Old Time Machine, Green Hedges School and Vienna Community Band. Roads closed to vehicles at 2 p.m. Refreshments will be served. (Rain Date: May 3) For information call 703-938-5187 or visit www.historicviennainc.org.
11th Annual Vienna Elementary PTA "Run for Fun" 5K and 1 Mile Fun Run/Walk. 8 a.m. Vienna Elementary School, 128 Center Street South, Vienna. Bring out the whole family to help support academic activities and improvements at Vienna Elementary School. DC Roadrunners will provide a ChronoTrack timing system for the USATF Certified 5K course. The cost is $25 before 4/19 and $30 after. Children 14 and under are $15. For more information and to register, please visit www.vienna5krun.org.
Free Gospel Concert. Historic Pleasant Grove, 8641 Lewinsville Road, McLean. This free community event features Voices of Worship community choir singing traditional gospel music and uplifting spirituals in a quaint 1895 church setting, now an historic site. For information, see www.HistoricPleasantGrove.org.
St. Francis Choral Concert. 4 p.m. St. Francis Episcopal Church, 9220 Georgetown Pike, Great Falls. The performance will include PING, a select group of vocalists specializing in acapella music from all periods. The featured work of the concert will be Morten Lauridsen's beautiful Lux Aeterna, accompanied by distinguished organist Paul Skevington, music director of St. Luke's Catholic Church in McLean, Va. The concert will be directed by Larry Vote, Professor of Music at St. Mary's College of Maryland and co-director of music at St. Francis Episcopal Church.
Trout Fishing in America. 3 p.m. Reston Community Center, 2310 Colt Necks Road, Reston. A family-friendly concert presenting four-time Grammy nominee band Trout Fishing in America.