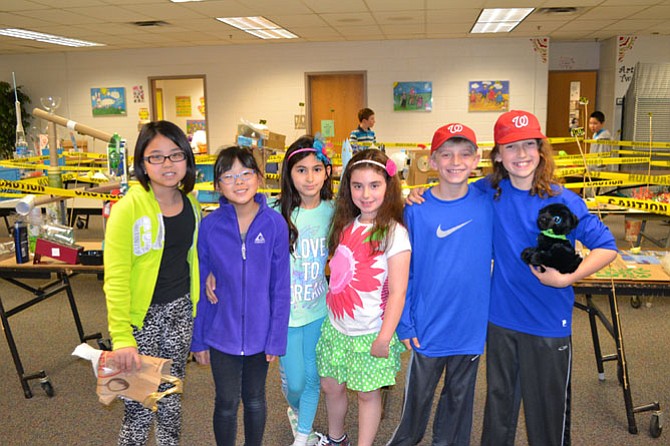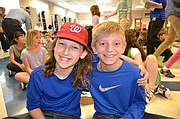 Earth Day at Spring Hill Elementary School is a big event. Students start well in advance planning and practicing performances, creating original artwork, or designing outfits made of recycled materials. The event featured a competition, but mostly it is a celebration of the earth, and a chance for the students to share their earth-friendly ideas.

More than 900 students gathered in the school cafeteria last Wednesday morning to watch a variety of performances by fellow students, and to hear results of the performance and recycled art competitions. They watched skits, songs, homemade music videos and slideshows, all created exclusively by students, and each promoting the importance of recycling and taking care of the earth.
The school administration encourages recycling not just on Earth Day, but every day. Principal Roger Vanderhye likes to say "every day is Earth Day at Spring Hill."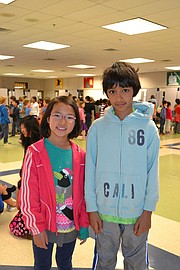 That message seems to have resonated with the school's students. In the past year Spring Hill students donated more than 2,180 unopened food items to SHARE, McLean's food bank for disadvantaged neighbors. In fact, since the school started the recycling initiative more than two years ago, its students have donated at least 15,000 items to SHARE. The school has seen a 9 percent decrease in trash produced, and an 8 percent increase in recycled goods collected, and they have saved 47,000 kilowatt hours of energy in the past year by being more conscientious about light and energy usage.
The pride they take in their recycling efforts is evident. Zander Kuebler and Will Tedesco made homemade instruments from recycled materials, and performed a song with their new props on stage. "We got to search and find recyclable materials that otherwise would be recycled and turn them into something fun to do. And help save the world," said Kuebler. "It was fun to make them, and I bet it will be fun to sing," he added.
Sixth grader, Haytham Alsayed took first prize in the performance contest with a moving slide show about recycling and the earth. Winners of the recycled art competition were: Best 2D art: Lia Banovac. Best 3D art: Lukas Leonardson. Grade awards included: Johnny Lee (Kindergarten), Nikhil Natarajan (first grade), Melody Mortazie (second grade), Emma Trembler, Reese Spicer and Madison Spicer (third grade), Alexis Robinson (fourth grade), Zander Kuebler and William Tedesco (fifth grade), and Lydia Keffer and Annie Woo (sixth grade).