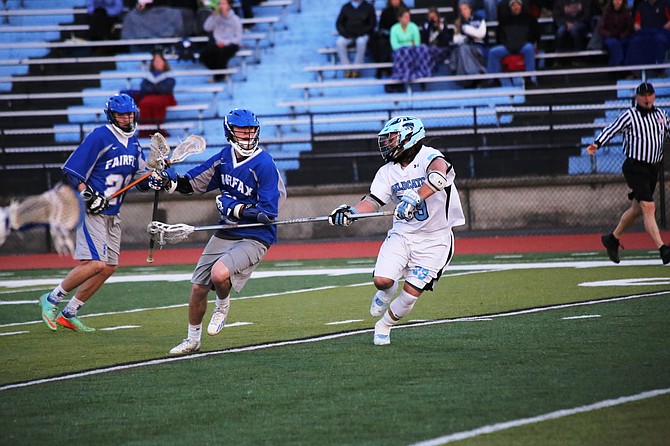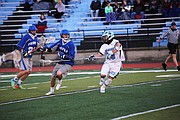 The Centreville boys' lacrosse team suffered a defeat at the hands of Chantilly on April 16, but rebounded with a come-from-behind victory against a quick Fairfax squad on Wednesday, April 22.
The Rebels opened the game with a rampage, scoring six goals in the first quarter. Wildcats Kyle Richbourg and Matthew Laurence kept Centreville in the game combining for seven goals in the first half to keep the deficit at three.
Both teams earned four goals in the third quarter, as each Wildcat surge was answered in kind. The intensity deepened in the fourth quarter when Laurence scored a tying goal with less than nine minutes to play. Another goal by Richbourg gave the home team its first lead, and Tyler Heidt was assisted by Carson McEver to put Centreville up by two.
However, Fairfax fought back to tie the game at 16 with five minutes on the clock. John Tarver scored his third goal of the game to regain the lead, only to have Fairfax tie the game again with 1:17 to play.
A Fairfax penalty resulted in a man-up situation for Centreville, which Richbourg exploited for his game-winning seventh goal.
The Wildcat defense grew tougher throughout the game, anchored by goalie Josh Tarver's 12 saves.
In earlier JV action, the Centreville boys defeated their Rebel counterparts 7-3 on the strength of a hat trick by Daniel Oh. Other Wildcat goals were scored by Michael O'Donnell, Preston Benton, Jason Ebright, and Stephen Bohenek with assists made by David Falcone and Nick Dimmer. JV Goalie Paul Anderson finished the game with 10 saves.