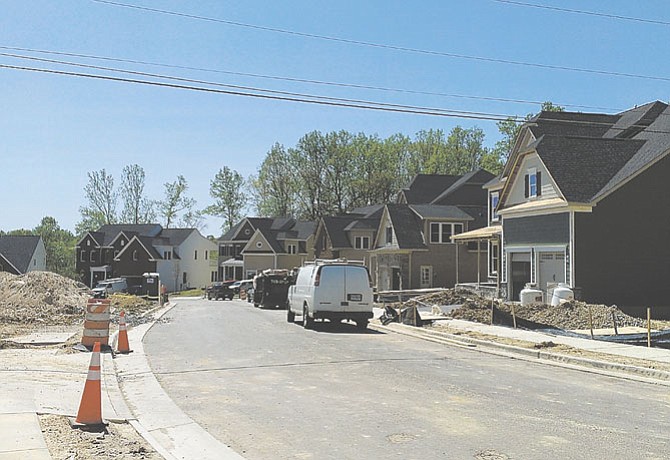 Gambrill Pointe subdivision
Gambrill Pointe Court and Ridge Creek Way
These 20 homes on roughly 11 acres are in the process of being sold.
Park Pointe subdivision East side of Gambrill Road, near the Fairfax County Parkway.
Eighteen single-family homes on 7.7 acres have been approved; the plan is still under site review.
Corbet Manor
Around 7717 Gambrill Road
Seven single-family homes are going into 4.5 acres of what were previously unconsolidated parcels of land.
Monopole in Clifton
Around 12895 Clifton Creek Road
The Clifton Creek substation of Dominion Virginia Power already has a monopole on a 95-acre site around 12895 Clifton Creek Road, however Dominion and Verizon Wireless have applied to move the pole to a different location with more height. The plan has been recommended for approval by the Planning Commission on June 17.
Vulcan Materials Graham Quarry
10000 Ox Road
Vulcan and the Fairfax County Water Authority have proposed repurposing the quarry as a reservoir to hold between 16 and 17 billion gallons of water. The Planning Commission approved the proposal to come before the Board of Supervisors on April 28.
Wegmans at Hilltop Village Center Hilltop Village Center
Corner of Telegraph Road and Beulah Street
The long-awaited grocery experiencing destination is scheduled to open June 14 at 7 a.m. The 126,000 square-foot store includes a full-service "Pub" bar-restaurant. Though Wegmans isn't known for grand opening celebrations, there will be a kickoff event in September to mark the opening of the entire shopping center.
Woodglen Lake Dredging
Fish relocation to Lake Accotink took place in November 2014. The lake's water has already been completely drawn down, and the notice to proceed with dredging was given to the contractor on April 7. The $3 million project is projected to be completed in October of this year. During fish relocation, workers discovered invasive Grass Harp fish and Gizzard Shad, a species not normally found in lakes.